Hearts poised to sign loan striker this week if SPFL grants approval
Temporary deal lined up if the league body gives hard-up club the green light.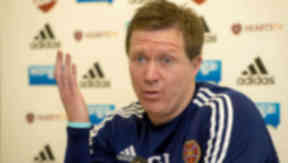 Hearts manager Gary Locke is awaiting permission from the SPFL to bring in a striker on loan this week.
Locke has been hard at work identifying potential recruits in the hope that the league body will allow the club to make a signing on a "one in, one out" basis.
With Adam King finalising his £175,000 transfer to English Premier League side Swansea City, Hearts are now ready to swoop.
A new forward could be loaned from an English club in time to play in Sunday's League Cup semi-final against Inverness.
Locke said: "Obviously we've been doing our homework the last few weeks in case any players went out.
"I've got a player in mind that I'd like to bring in.
"It would be fair to say it's a striker but we are short in a lot of areas.
"It's an area of the team we need to strengthen and I'm hoping I can do that.
"We're waiting on word back from the SPFL to see if we can manage to do anything. I should hopefully hear something back today.
"I've said all season it will be great to freshen the squad up and just bringing in one face would be great, for the players as well just to have a new face in the dressing room.
"But it's not as easy and 'one in, one out', we have to get the okay first."
Locke also confirmed that he hopes to make Rudi Skacel a Hearts player next week, again dependent on the SPFL board's approval.
Alan Combe, the Tynecastle goalkeeping coach, is cancelling his playing registration in an attempt to get the 34-year-old Czech forward signed up.
Locke, who currently has Skacel training with his squad, added: "I've certainly not hidden the fact I'd like to have him here, but it's not a decision I can make.
"If we get the green light then he's certainly a player I'd like to bring to the club."