Glasgow boxing fans can still believe in Magic after 28th win
A second round stoppage at a packed Crowne Plaza once again made Glasgow boxing fans believe in magic.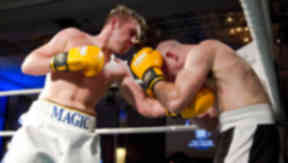 A second round stoppage at a packed Crowne Plaza once again made Glasgow boxing fans believe in magic as reigning BBU Super Middleweight champion "Magic" Marc Kerr extended his winning run to 28 fights.
In what turned out to be a one sided affair against Ross "Bang Bang" Buchanan, the SK fighter put the visiting Wildcard Boxing fighter through his paces with series of a pinpoint jabs and strong right combinations.
Having weathered an early storm from Kerr, Buchanan had no reply when the Glasgow fighter's unrelenting pressure backed him into a corner before a deft right punch in the second round left him on the canvas.
With plans to turn professional in the near future following his 30th semi-professional bout, things remain on the up for this classy operator.
Next was a battle of titanic proportions as reigning BBU Heavyweight Champion John "Cruel Intentions" Stevens notched up a points victory against Eric "the Mad Monk" Faill.
In a typically all-out heavyweight affair both fighters entered the ring with a history that coloured the early rounds. Having had a series of victories over his stablemates, Faill was keen to restore some pride to the Newcastle heavyweight scene and took the fight to Stevens with his direct style, a strategy that the home fighter happily responded to.
Across four rounds, it was clear Faill had done his homework on Stevens and used his footwork to stay away from his opponent's lethal right hand. However, as the fight progressed Stevens' combinations began to tell, catching the Englishman on a number of occasions.
In a bout that was fitting of the main event, the home crowd and judges were left in little doubt as to the winner.
Earlier in the evening, the card was kicked off by a junior exhibition contest where SK youngsters Dylan "The Villain" Kelly and Ryan "Rocky" Irwin gave the audience a glimpse of their exciting future as they participated in a three man contest with Holyrood Boxing Club boxers.
This was followed by a battling display from Sal Rao who overcame Stockport's Will Cairns.
The SK man utilised the power in his left hand impressively, catching Cairns on the head and body at least a dozen times. While Cairns showed his resilience, continuing to battle against a stronger opponent, Rao would eventually outbox the visitor and in doing so comfortably get the decision.
With the early bouts setting the mood for the evening, the stage was set for Gavin "The Guillotine" Stevenson to enter the ring in spectacular fashion, leaping over the ropes to face Carl Askew from the Underdog Boxing Club. As a former amateur star, Gavin was quick to draw on his experience and kept his opponent under consistent pressure from the off.
With a fast jab and a well honed ring craft, Stevenson never looked in any real danger throughout the tie and soon had the decision of the judges.
This was soon followed by the return of another experienced SK fighter in the shape of Gary "The Scotstoun Scrapper" Porter as he faced Stockport's Scott Williams.
Despite being away from fight action since September of last year with a neck injury, a first round stoppage showed that the southpaw had lost little of his ring craft. Putting Williams under heavy pressure in the first, a clever shot to the body would end this tie in Porter's favour.
Meanwhile, an exhibition bout between Jade Yapp and Shannon "The Dark Horse" Lawson was greatly received by the crowd with both boxers putting on a fine display of technique and determination. Both boxers not only delivered a high calibre display on the evening but once again showed the potential and growing popularity of women's boxing.
In perhaps one of the most frantic fights of the night, Mark "Too Strong" Armstrong overcame Jordan Cummings thanks in no small part to a mix of boxing skill and sheer determination. With both fighters keen to impress, each round contained flurries of punches from both fighters but Armstrong was adjudged to have had greater accuracy.
This story was retold in the following fight with a similar display from debutant Archie "The Terrier" Ferguson who showed a maturity far beyond his short boxing career to get the win over Ross "The Boss" Nelson. Living up to his boxing moniker, Ferguson showed a vibrancy and enthusiasm that his opponent eventually relented to, with Ferguson claiming a points victory.
Elsewhere on the card, Dave Walker from Trench Boxing Club got the win over Gary Mitchell from New Life Gym and Calum Jarvie from Highlander's Gym used his jab and height advantage well to get the better of Jamie Anderson from Sweeney's Gym.
Finally, one of the most popular fighters on the card duly delivered on some big expectations as Ahmed Ibrahim flourished on his boxing debut against John Spencer.
From Kenya to Glasgow to Muay Thai to boxing, Ibrahim's path is the one rarely travelled, however his experience told in this bout. With a well developed ring craft, Ibrahim picked his shots and remained calm under pressure despite Spencer indulging in some gamesmanship, taunting Ibrahim throughout the fight.
After a fairly even first round, Ibrahim would make his mark by flooring Spencer with a powerful right to the body.
In credit to the scrappy Stockport man, he returned to his feet and saw out the round and, after returning to his corner for the break, he returned determined to make a mark in the third. Catching Ibrahim with a number of jabs the scene was set for a huge final round for both fighters.
With the home support chanting his name, Ibrahim did not disappoint in the final round. Flooring Spencer on two occasions the decision rightly went the way of the delighted SK fighter. With the result confirmed, an emotional Ibrahim raised his hands in tribute to his departed brother Ghetao, to whom he dedicated his performance.