Scottish FA set to learn outcome of Hampden Park Euro 2020 bid
Hampden Park is vying to be one of the 13 venues selected by UEFA to host the 2020 competition.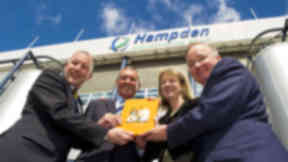 The Scottish FA will learn on Friday whether their bid for Hampden Park to host Euro 2020 games has been successful or not.
An announcement will be made by UEFA at 12pm on September 19, with 13 host venues for the competition set to be named.
The 2020 competition will be held across the continent to commemorate 60 years of the tournament, with games played in 13 different host cities.
Glasgow are firmly in the hunt to be named a host having lodged their bid in April. UEFA officials visited the city to asses Hampden's credentials, with a total of 19 national associations vying to be named hosts.
The evaluation report for Glasgow's noting that the city had experience of hosting major events including this year's Commonwealth Games, the UEFA Cup final in 2007 and the Champions League final in 2002.
Cardiff, Dublin and London have also lodged bids to host games and SFA Chief Executive Stewart Regan has admitted that the chances of all four cities from the UK and Ireland being awarded games is low.
He said: "There are four bids from the UK and Ireland and I think it is highly unlikely all four are going to be hosts.
"It's a difficult one to call. We have gone from over 30 countries down to 19 and we have read all the technical reports and there are pluses and minuses in most of them.
"It is out of our hands, but in our favour we have the history and heritage of Glasgow including some of the most famous European club and international games. Because it is the 60th anniversary of the European Championship we think history will feature very heavily in its branding.
"We believe our bid is technically strong. There were a number of concerns raised about the bid but there were concerns raised about almost all of them."