Falkirk manager urges side to 'cherish' Celtic semi-final
Steven Pressley has warned his youthful side not to take their Scottish Communities League Cup last four appearance for granted.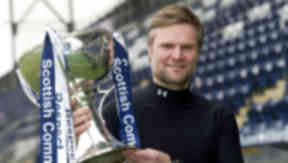 Steven Pressley has urged his youthful Falkirk squad to recognise the significance of their appearance in this season's Scottish Communities League Cup semi-final.
The First Division side face Celtic at Hampden on Sunday, having already knocked out Rangers and Dundee United in the competition this season.
With youngsters such as Craig Sibbald (16), Jay Fulton (17) and Blair Alston (19) firmly in the first team picture, the Bairns boss has warned his players they must not take such occasions for granted.
"Everyone is desperate to be involved," said Pressley. "It is very exciting and new for the players.
"It is a great occasion for them all and a wonderful opportunity for them to showcase their talents.
"But there must be a realisation that sometimes semi-finals don't come along too often in a player's career.
"When you are 16 and 17 you think that this is a regular occurrence but as I experienced, it can be a long time - seven or eight years in my case - before you see another semi-final.
"So it can be quite a considerable time, that's why you have to cherish these moments and enjoy them."
Falkirk take on a Celtic team who sit four points clear at the top of the Scottish Premier League table, with Neil Lennon's side winning their last 12 SPL games.
"When the draw was made Celtic were struggling and going through a transitional period," said Pressley. "But since then they have done nothing but win games.
"Twelve straight SPL wins is a phenomenal record but I also think that we have progressed enormously over the last eight weeks.
"We are playing better than ever this season and we have a real trust and belief in the system we play so I think it makes for an intriguing game."