Paulo Sergio admits uncertainty as Hearts continue plans to offload players
The Hearts manager accepts that more of his squad may have to be moved on to markets in Eastern Europe, to ease the financial problems at Tynecastle.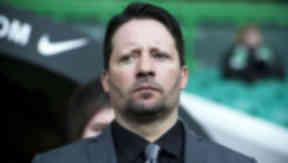 Paulo Sergio has admitted his concerns for the future of Hearts after the club failed to move on top earners during the winter transfer window.
Sergio knows that his own contract is up at the end of the season, but has a greater worry over the future of the club, given that only Eggert Jonsson, Ryan Stevenson and John Sutton were offloaded last month.
Sergio said: "I'm worried, because I know the reality. The club needs to make some money so it's always a difficult situation.
"Everybody knows we needed to make some money and we didn't. Our board has to work harder to find the money elsewhere."
While the transfer window is closed for most of the major leagues in Europe, teams in parts of Eastern Europe are still permitted to buy players. This may be an avenue that Hearts pursue as they look to balance the books.
Sergio added: "What I believe is we need money, if it's selling players, equipment, whatever, I don't know. It's possible something happens.
"The European market is closed, but other markets are open. We will see what happens."
While the long-term futures of so many of his squad are uncertain, Sergio believes that the players at the club will continue to perform to a high level so they can attract potential suitors from around Europe.
Sergio said: "I'm sure some of them will be more focused now, with the summer, because those kind of markets (the ones which remain open) have no interest for them.
"They have to wait until the summer to make the next step. I believe they're going to be committed, just thinking about football until the end of the season."
Sergio is keen to remain at Hearts beyond his current deal, but admits that he will need to speak to the board about their plans for the club, given how different his objectives are now to when he took over.
He said: "I think I can stay next season, but that depends. We're going to talk with our board and everyone. I don't know what the project is at this moment. I need to feel I'm part of a big thing.
"We need to sit down on the table and make everything clear. I don't want to wait until the end of the season, we should start thinking about the future just now.
"We're living all this season with lots of problems, but I have a strong feeling I'm working at a very good club. I'm proud to be and to work at Hearts."