Rangers owner Craig Whyte meets players and staff
Following the announcement that Rangers intend to enter administration, Craig Whyte has held a meeting at Murray Park.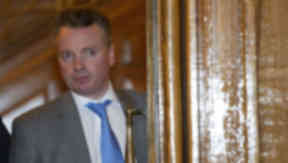 Rangers owner and chairman Craig Whyte has met with players and staff on Tuesday morning to discuss the club's financial situation.
In a 30 minute meeting, Whyte explained to the players the reasons behind the decision to announce that the club intends to go into administration. He also discussed the implications for staff.
 
The Ibrox club lodged papers at the Court of Session on Monday notifying their intent to appoint administrators.
Whyte has insisted that administration is not inevitable, though likely, but that the step was a practical and necessary measure to ensure the long-term future of the club.
In a statement on the club's website, the businessman said that Rangers are "facing massive financial challenges both in terms of its ongoing financial structure and performance and the potential consequences of the HMRC first tier tax tribunal".
Administration could mean job losses at Ibrox and Whyte is likely to confirm that if an administrator is appointed, then it is possible that members of the playing squad may need to leave as part of cost-cutting moves.
IN DETAIL