Henrik Ojamaa 'couldn't' hit a barn door' in Motherwell trial
Delighted Stuart McCall says other qualities persuaded him to sign the Estonian striker.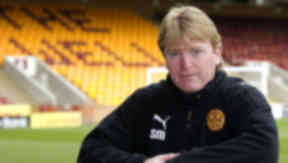 Motherwell manager Stuart McCall has said that forward Henrik Ojamaa showed none of the goal-scoring ability he possesses while on trial prior to signing for the Fir Park club.
Ojamaa signed a short-term deal with Motherwell in January and after making an explosive impact he was handed a two-year contract.
Though the Estonian has now notched up five goals in eight matches, McCall revealed that when the 20-year-old was first brought to his attention, an eye for goal was not obvious.
"His agent, who's got Nicky Law and Shaun Hutchinson, mentioned he had a young lad who had come to the end of his contract," McCall explained.
"We had a look at him on YouTube and we got him over for a trial.
"He couldn't hit a barn door but he played really well. He had something that we didn't have, someone who could run in behind, full of energy.
"We saw him on YouTube, got him over on trial twice and he still couldn't score in his second trial game.
"He's far exceeded expectations at this moment in time."
The 'Well boss said that the player had settled quickly and added that getting the right type of character to fit his squad was important.
"Sometimes players fit, as do managers," he said. "Some clubs can just be right for you.
"Recruitment is a massive thing at any club, especially Motherwell where money's tight.
"Great credit to Henrik for the money he came from originally. I did joke before that it was his bus fare but it was little more than that. In fairness to him, that showed the type of person he is and that's the type of person we want here.
"He's had a rise here because he's on a two-year deal but we had to fend off people. If he just continues the way he's doing we'll be delighted."