Football talk: A busy day at Hampden and more goalkeeping excellence
All the biggest stories in Scottish football and the best of the web in one easy read.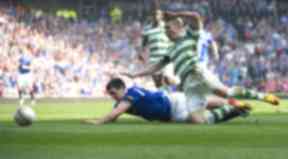 The Scottish football news will today be dominated by the outcomes of events at Hampden. And not on the field.
Celtic will hear the outcome of their appeal over Cha Du Ri's dismissal in the weekend's Glasgow derby.
Meanwhile, Rangers and Craig Whyte will find out the verdicts on their own disciplinary charges, with the club facing charges of five rule breaches and Whyte facing two.
The SPL have sent Neil Lennon a third letter in two weeks, asking the Celtic boss to explain his comments about refereeing standards ahead of the match with St Johnstone.
And Hearts have paid their players the wages for March, but there are still outstanding bonuses due.
TOP STORIES
Cha Du Ri dismissal appeal set to be heard today
Celtic will discover the verdict on their appeal of Cha Du Ri's sending off against Rangers on Sunday.
Craig Whyte and Rangers to hear outcome of SFA charges
The club face five charges of breaching SFA regulations, while Craig Whyte faces two.
Neil Lennon asked to explain comments on refereeing standards
The Celtic boss has again been asked to elaborate on his statement that the game with St Johnstone could see 'a decent refereeing performance into the bargain.
Hearts players paid March salaries
The club has confirmed that the players have received their salaries for the last month.
Ken McGeoch's St Mirren future likely to be decided by EGM
The St Mirren director is willing to walk away from the club but only if someone else buys his shareholding. (The Herald)
MUST READS
Milan 0-0 Barcelona: lots of little battles
Zonal Marking looks at how the Italians stifled the reigning champions and two different pressing games. (Zonal Marking)
Tackling the spectre of racism in football
David Conn speaks to Sol Campbell and Garth Crooks about the lingering problems in the game. (The Guardian)
Simon Kuper on the secret of Barcelona's success
Kuper looks at six reasons why Barcelona function the way that they do (Mio Stadium)
MUST WATCH
More Lassi Hurskainen goalkeeping excellence.
Ever wanted to see a goalkeeper kick a ball into an oil drum on a moving oil cart? Or make a save whilst diving across a car? Of course you have...