Why your birthday might help you become Scotland's next football talent
When you are born has an impact on how likely you are to play professional football. Thom Watt explains.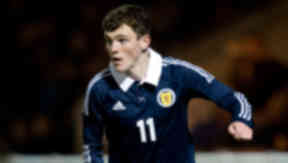 Has your child shown a bit of early aptitude with a ball at their feet? Are they that bit quicker than their peers at spotting a pass, running into space, anticipating an opposition space?
Yes? Congratulations, they might have a chance to make it to the top.
Were they born in January, February or March? Even better.
Why? More footballers in Scotland are born in the first three months of the year than at any other period. In fact, almost half are born in the first four months of the year, and you are twice as likely to make it as a professional in Scotland if you are born in January rather than December.
This all sounds highly implausible, or perhaps just a simple coincidence, but there are interesting reasons why players born in January, February or March have an advantage, and why we might be losing out on great players born later in the year.
We do also have to point out a great deal of credit for this thinking has to go to Malcolm Gladwell, whose Outliers book first highlighted some of the ideas here. Needless to say, it's well, well worth tracking down.
The advantage of being born early
In theory, it shouldn't matter what time of the year you are born. If you push yourself, train hard, listen to your coaches, stay injury free, and dedicate your developing years to football, you'll have a chance of being a professional. It should be that simple.
There should be no reason at all that a player born in October has any advantage or disadvantage over one born in March. If we built a diagram showing which months of the year top-flight Scottish professionals were born, we'd expect a fairly even distribution throughout the year.
The following diagram shows a breakdown of when top-flight Scottish players were born in any given year. We've split the year into three separate time periods, January to April, May to August, and September to December. We've only recorded players who were born and trained in Scotland, and who have a squad number in the 2014/15 Scottish Premiership.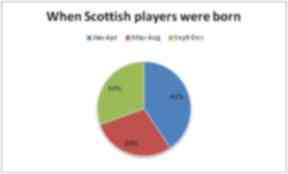 As we can see, far from there being an even distribution of birthdays across the year, there are far more top-flight professionals born at the start of the year, between January and April. 41% of the players in the Premiership were born in the first third of the year.
Furthermore, these numbers suggest a player is almost twice as likely to make it as a professional in Scotland's top flight if they were born in January, February or March (61 players) than if they were born in October, November or December (36 players).
Of course, we're only looking at one season here. Although the numbers appear significant in this one season (187 players counted), we probably should delve a little deeper and make sure this isn't a fluke.
Widening the net
We've applied the same set of rules as we did in the above example, but this time we've applied it to every Scottish player who has appeared in the top flight over the last five seasons. Does the pattern still hold true?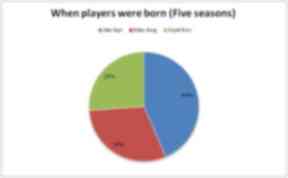 Not only do we again see the largest group of players being drawn from that January-April age bracket, we can start to see a trend. There are less top-flight players born in the later months of the year than there are born in the earlier months.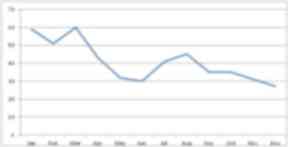 Why?
The age cut-off for each year at Scottish schools is between the start of March and the end of February. Kids who turn five in February will start primary school in August with kids who don't turn five until the end of March. In teaching circles there has been great debate about "The Rising Fives"; should children start school at four if they are a year younger than some of their classmates?
While this seems relatively innocuous, it can make a significant impact on development and education standards in the early years. Children with March birthdays have had a year longer to develop the life skills that will help them at school than those born in February.
Age cut-offs for football in Scotland run from January to December. A child born on January 1 2001 will play in the same under-13s division at those born in December 2001, even though he is a year older and in a higher class at school. Just as there are obvious educational advantages to an extra year's experience before you start school, there are even more pronounced advantages in sport.
Not only do children born earlier in the year have more time to learn, they can also have a significant physical advantage from up to an extra 12 months development. This advantage may seem slight, but coaches and parents are far more likely to focus their efforts on children who show great aptitude at this level.
It's not that children born in January are better players, or their star sign has determined their aptitude, it's that they have physical and developmental advantages. If the football cut-off ran from December to the end of November, we'd see a huge spike in the number of players born at the end of the year within a couple of decades.
Naturally, coaches who want to develop talent focus more time, effort and physical training on the "best" players at youth level, and the "best" players are most likely to be the ones who have had more time, effort and physical training, namely, the oldest. By contrast, those who are younger are less likely to have developed physically, have spent less time playing the game, and so receive less attention from elite coaches. If that happens, they're more likely to give up.
Solutions
It isn't especially problematic that those born earlier in the year get an advantage. The problem lies in the fact that those born later in the year are at a serious disadvantage. While those born in November and December aren't dropping out of football altogether, the fact that there are significantly fewer footballers born in these months is problematic. Potentially, we are talented losing players, by putting them at a disadvantage.
One possible solution would be to break up the age ranges at under 13 and under 15 into two or three sub-levels. If there were no more than four or six months between the oldest and youngest in a certain age range, there would be less discrepancy between physical development and match savvy. It would be easier to identify talented players born later in the year, who may have been otherwise lost to the game.
We've all heard the stories of a talented player being released by a club because he was "too small" or "wasn't strong enough". Players reach maturity at different times, but the advantage of an extra year's training means older players are always more likely to stand out. More concentrated age ranges during developmental years could only increase the numbers of talented players we produce.
I never had a chance as a professional football in Scotland. I was born on December 30. That's my excuse.