Tippeligarunden: Late drama keeps Strømsgodset's title hopes alive
With Molde and Rosenborg on top, Christian Wulff reports on Jarl Andre Storbæk's vital strike.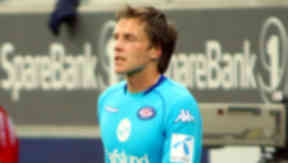 The scene was finally set. After an international break in which Norway took four very important points away to Switzerland and Cyprus, the attention was firmly back on the domestic league.
With only five games left, the three title challengers were all set to face each other over the next three rounds.
The first of these decisive clashes saw third placed Strømsgodset take on leaders Molde at home in Drammen, a match-up that also meant a tactical battle between the two men widely acknowledged as the best young coaches in Norway.
One of the protagonists needs no introduction. Ole Gunnar Solskjær is the most famous footballer Norway has ever produced, his name intrinsically linked to some of the most famous moments in the history of one of the world's biggest clubs.
He did his formal managerial apprenticeship at Manchester United, leading its reserve team for over two years before returning to his former club Molde. He was an immediate success in his first season, guiding the club to its first ever league championship in its centenary year.
Still only 39, his name is now touted as a serious candidate for almost every major managerial vacancy that arises in England.
Securing Molde the title last year was unquestionable a great achievement, but that success was just as much down to Rosenborg's hugely inconsistent season under their then new coach Jan Jönsson.
That's a luxury the Trondheim club have not afforded Molde and Solskjær this season. After 25 league games last year, Molde's 52 points had all but secured them the title.
At the same stage this season they have 51 points; still enough for first place ahead of this round but this time with Rosenborg and Strømsgodset breathing down their necks.
Solskjær also has the support of a very knowledgeable and experienced backroom staff, bringing his two former Manchester United colleagues Mark Dempsey and Richard Hartis with him to Molde. The club is also in a much better financial situation than most of their Tippeligaen rivals, enjoying the backing of one of Norway's richest men, Kjell Inge Røkke.
While Solskjær is undoubtedly a talented and charismatic manager, the lack of a genuine domestic challenger last year, together with his strong safety net of financial muscle and great coaching staff have led to questions of whether the hype around him is fully justified.
Molde have also been criticised for their perceived failure to deliver in the big games. It is a claim largely based on having lost all three league games against Rosenborg since Solskjær took over, in addition to some particularly hurtful losses such as the 4-1 defeat to Brann in Bergen last month.
Solskjær does deserves huge credit for the way Molde has made a real impact on the international stage this season, getting into the Europa League group stages after beating Herenveen both home and away and outclassing Stuttgart 2-0 only a couple of weeks ago, with progress to the knock-out rounds still a genuine possibility.
The end of season fixture list had also given Molde the perfect opportunity to prove that they also have the mettle to perform in the big Tippeligaen clashes. In the next two weeks they will host Rosenborg at home before facing fourth placed Tromsø away, the northerners unbeaten on their artificial turf this season.
This weekend however, Strømsgodset would be their first significant test; another unbeaten home team playing on an artificial pitch.
Solskjær would also face the coach that, for all the attention and acclaim the Manchester United legend receives internationally, is currently regarded as an even bigger coaching talent in Norway.
It is a reputation that Ronny Deila fully deserves. Two years younger than Solskjær, his playing career could not have been more different. A centre-half who spent his whole career in Norway, he played over 300 games for Odd Grenland, Viking and Strømsgodset.
Capped twice at Under-21 level, he never got a senior international call-up. He became assistant player-coach at Strømsgodset in 2006 and was promoted to head coach two years later, only 32 years of age.
Over the last five seasons he has done one of the most impressive coaching jobs anywhere in European football. Working within a very strict transfer and wage policy, he has slowly moulded a team of largely unheralded youngsters and practically discarded veterans into what this season has fully blossomed into what is at times an irresistible force of aggressive, offensive football.
Deila combines that clear and positive playing philosophy with a man-management style that has brought the very best out of both his players and his young back-room staff. Significantly, he always insists that his main role is to coach people, not football players.
He wants his players and staff to feel trusted and respected, to create a space where they have the licence to try and fail, while at the same time being continuously challenged to achieve and perform.
After four seasons with some very respectable mid-table finishes, in addition to their Norwegian Cup triumph in 2010, Strømsgodset has really reaped the spectacular benefits of Deila's work this season.
In late July, their 5-0 demolition of Fredrikstad increased their lead at the top of the table to six points. Since then, they have found it hard to sustain those impressive performances but before Sunday's game against Molde they were only three points behind the leaders and still very much in the running for their first league championship in 42 years.
For Ole Gunnar Solskjær, this was a chance to prove that he was capable of winning the tactical battle against a coach threatening to outshine him. For Ronny Deila it was a great opportunity to take his team one step closer to what would be a truly incredible achievement, cementing his place as one of the brightest young coaches in the whole of Europe.
On Friday night Rosenborg had taken over the top spot after their 2-0 win over Sandnes Ulf, a superior goal difference meaning Molde would have to beat Strømsgodset to reclaim the lead. It was the home team who were the most aggressive from the start but Molde managed to soak up the pressure and went in front after 16 minutes.
A mistimed header by full-back Lars-Christopher Vilsvik sent Jo Inge Berget racing down the left side. He had still a lot to do when he stormed into the penalty area at a tight angle, but goalkeeper Adam Larsen Kwarasey was placed a little too close to his near post, allowing Berget to curl a composed finished past him and into the far corner.
Strømsgodset continued to dominate possession for the rest of the half but Molde kept their shape extremely well, never letting Strømsgodset get comfortable with their effective pressing off the ball. The visitors looked far more likely to increase their lead than Strømsgodset were to equalise, Berget and Pape Diouf especially effective in stretching the home team's defence.
At half-time Deila brought on his 6ft 6in Hungarian striker Peter Kovács. Strømsgodset does not change their sharp passing game significantly when they play with the big man up front, Kovács being able to slip seamlessly into the system with his clever runs and reasonable technique. But his presence does give them an alternative and more direct outlet, in addition to an added treat from set-pieces.
Kovács' introduction was also a way in which to challenge the defence dominance of Vegard Forren. The classy centre-half had got his international break-through last week with two very impressive performances beside Brede Hangeland in the Norwegian defence and was now following it up with an excellent defensive display against Strømsgodset.
The home team did almost go level a couple of minutes after the re-start when Ola Kamara steered Stefan Johansen's shot just wide with his heel. But Strømsgodset's initial enthusiasm was again subdued by Molde who kept their tactical discipline and continue to threaten on the counter attack.
When Strømsgodset finally did force an opportunity after 60 minutes reserve goalkeeper Ole Söderberg, standing in for the injured Espen Bugge Pettersen, produced a great save from substitute Muhamed Keita's close range shot. Otherwise, Forren seemed to be everywhere in the Molde defence, completely dominating the aerial duels from Strømsgodset many set-pieces and making some important blocks and interceptions while always looking calm and collected on the ball.
Strømsgodset needed a game-changer and it came from an unlikely source. With Molde's counter-attacks becoming more and more dangerous, Mattias Moström was put through on goal fifteen minutes from time, finishing with conviction as Kwarasey came rushing out of his goal.
The Oslo-born goalkeeper, who has established himself as the first choice goalkeeper for his father's home country Ghana, produced a stunning save with his trailing left hand, a lighting quick reaction needed to stop Moström's point-blank effort.
That save kept Strømsgodset in the game but they still needed to force an equaliser to keep their title hopes alive. They slowly but surely turned the screw on Molde, who had started to get more and more sloppy in possession and who where now adding to the home teams pressure by conceding free-kicks in their own half.
Only seconds before full-time Strømsgodset were given another set-piece opportunity. Perhaps paying too much attention to Kovács, the Molde defence afforded Ola Kamara the space to go up unchallenged and head the ball down to veteran centre-half Jarl Andre Storbæk, who sweetly volleyed the ball past Söderberg for an immensely important equaliser.
With their unlikely adventure only moments from ending, Storbæk's first goal for the club kept this incredible group of players and staff in the title race.
Solskjær had sent Molde out in a clever and disciplined approach, getting the perfect game scenario with Berget's early goal. But Deila's switch at half-time, combined with the unshakable belief and the commitment to his playing style instilled in these players, meant that yet again Molde couldn't quite manage to deliver in a big league game.
It also meant they had to surrender their lead to Rosenborg, who go to Molde in the next round ahead on goal difference. The result in Drammen also means that it is, for now at least, a four horse race for the title. Tromsø got their third straight win - and seventh in the last eight league games – with a clinical performance against Haugesund.
They are now seven points behind Rosenborg and Molde, but they have a game in hand in addition to that home match against Molde.
So a title race that was close has become even closer. Molde will be looking to stop their league losing streak to Rosenborg this Sunday, which currently stands at six straight defeats. Facing your biggest rival at home four games from the end of the season, tied on points at the top of the league; Ole Gunnar Solskjær could not have asked for a bigger challenge through which to prove his credentials.
At the other end of the table everything will remain unchanged for another week. Sandnes Ulf knew that this probably wasn't the week to gain the points needed to climb out of the relegation places, although Rosenborg did need a controversial penalty in order to go ahead against them, Mikael Dorsin securing the win eight minutes from time. But Sandnes Ulf would have been relieved that neither Sogndal nor Fredrikstad could extend the gap down to them.
Sogndal went down to a late Vidar Nisja winner against Viking in Stavanger, while Fredrikstad experienced one of those games that could crush your spirit and turn creeping doubts into full-blown panic.
After twice going ahead in the first half at home against Brann, the away team then scored two late goals to go into the interval with a 3-2 lead. Ole Jørgen Halvorsen made it 3-3 just after the re-start, but Fredrikstad could not forced a winner and was left distraught when an own goal in injury time gave Brann all three points.
It means Fredrikstad still hold the play-off place two points ahead of Sandnes Ulf, althought he latter has a game in hand. Sogndal remain on safe ground, three points above Fredrikstad.
Stabæk manage to cut the gap up to Fredrikstad by one point after their draw with Hønefoss, the bad news is that there are still 10 to go with four games left.
Round 26 results: Rosenborg 2-0 Sandnes Ulf, Lillestrøm 1-1 Odd Grenland, Hønefoss 0-0 Stabæk, Tromsø 2-0 Haugesund, Viking 2-1 Sogndal, Aalesund 3-1 Vålerenga, Strømsgodset 1-1 Molde, Fredrikstad 3-4 Brann.
Christian Wulff is a Norgwegian football expert and writes the blog A Hell of a Beating. You can follow him on Twitter @aHellofaBeating.