Tippeligarunden: It was all supposed to be about Molde and Rosenborg
The league leaders clashed but nobody told Strømsgodset they were out of it, writes Christian Wulff.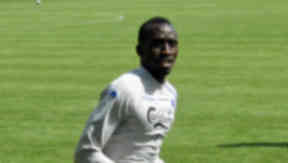 It was all supposed to be about Molde and Rosenborg. The 27th round of Tippeligaen was perfectly set up for the clash between the defending champions and the title-winning machine hungry to reclaim their customary spot as rulers of Norwegian football.
Tied on points at the top of the table, the two rivals were ready to grab all the attention with their match set up as the last, televised, match on Sunday evening.
There was a sense that by then, the title race would be all about these two team with Strømsgodset, three points behind the leaders, having to travel to Haugesund on the Friday night.
The home team had only lost two of 13 games on their own pitch this season, and while Strømsgodset has the third best away record in the league, they still had only four wins in 14 on the road ahead of a match where anything but three points would realistically see them out of the title race.
Haugesund followed the script in the first half, Pontus Engblom giving them the lead just before half time with an easy finish following Alexander Søderlund's clever flick. Thing is, you can knock this Strømsgodset team down as much as you want, they'll always, always find a way to bounce back, something the second half would be a perfect testament of.
First Péter Kovács took full advantage of a terrible mix-up in the Haugesund defence, the 34-year-old striker getting his tenth goal of the season just after the re-start, before a 34-year-old centre half put Strømsgodset in the lead six minutes later. Jarl-André Storbæk's headed goal was his second in two games, coming after his late equaliser against Molde last weekend.
Haugesund decided to put another twist in the tale, substitute Michael Haukås drawing the home team level 15 minutes from time. Then some of the most incredible minutes in Strømsgodset unbelievable season unfolded.
First Haukås got another perfectly good goal disallowed for offside, the assistant referee giving Strømsgodset one last lifeline. With the clock reaching the four minutes of designated injury time, referee Ken Henry Johnsen looks at his watch as Stefan Johansen collects the ball just inside Haugesund's half.
Four minutes completed, it looks like the natural moment for Johnsen to blow his whistle but maybe its Johansen forward thrust that makes him hesitate, allowing the attacking move to proceed.
In the very next moment, Johansen sends a diagonal through ball to Kovács who uses one touch to set up his shot and with his next movement perfectly executes from 16 yards, the ball flying into the net to give Strømsgodset a, quite frankly, ridiculous win.
As Johnsen calls an end to the match seconds later, the usually quite restrained Ronny Deila runs jubilant out on the pitch to celebrate wildly with his players.
Strømsgodset had made sure, through their incredible spirit and a big dollop of luck, that Molde and Rosenborg would go into their match on Sunday knowing that while a loss could be fatal to their title winning hopes, a draw would also let Strømsgodset climb right up behind both of them.
The rivalry between Molde and Rosenborg is a fierce, but fairly recent one. For Rosenborg, Molde is actually the closest major club, although their fans had to travel about 135 miles from Trondheim to watch their team on Sunday.
Their modern enmity can be traced back to the Norwegian cup semi-final in 1994 where Molde caused a huge upset, winning 4-3 on aggregate. Upset by Molde's playing style, which he saw as destructive and defensive, legendary Rosenborg coach Nils Arne Eggen congratulated his opposite number Åge Hareide with the now famous statement: "Congratulations. Arse-football".
Ever since then there has been an extra spice to the relationship between the two clubs. It was built up through the nineties and at the start of this century when Molde were the only real contender to Rosenborg's complete dominance of Norwegian football in that period.
Molde finished second behind the Trondheim side in 1995, 98, 99 and 2002, while in 1999 they also became the only Norwegian team other than Rosenborg to qualify for the Champions League group stages.
In 2009 they again were runners up behind Rosenborg, before Ole Gunnar Solskjær's arrival last year heralded the first ever league title for Molde. But even that historic triumph hasn't quite got the Rosenborg monkey of Molde's back.
Their consistent performances last season were impressive and their league title deserved, but it's no denying that an incredible inconsistent Rosenborg, struggling to find their rhythm under new manager Jan Jönsson, made the path to the championship much easier for Solskjær's men.
Rosenborg had won the league the two previous seasons, going undefeated in 2010. In addition, before Sunday's match they had won the last six league games against Molde.
So for Molde, this was not only an opportunity to take a giant step towards their second consecutive league title, but they could also do it through succeeding where so many of their past teams had failed; by beating Rosenborg in a decisive encounter.
Molde sent an under-strength team to Romania to face Steua in the Europa League mid-week, only goalkeeper Ole Söderberg keeping his place against Rosenborg. The visitors had welcomed Metalist to Trondheim in the same competition, only making one chance for Sunday's clash.
Those selection decisions could arguably be reflected on the pitch on Sunday, Molde starting with a higher tempo, controlling possession, but rarely threatening throughout a cagey first half, the night temperature creeping below zero.
Daniel Berg Hestad, the veteran who was part of that Molde squad who provoked Eggen's ire in 1994, went close after 25 minutes, his sharp shot after chesting down Knut Olav Rindarøy's cross fizzing past the post.
Rosenborg always have the ability to break quickly and they almost went ahead in stoppage time, as Mickal Dorsin – with some luck – got past two Molde defenders, forcing Ole Söderberg into a good save from a tight angle.
The game opened up a bit more in the second half, although there was still a lack of clear-cut chances before Molde got a corner after 60 minutes.
They took it short, Mattias Moström getting into enough space to send a delightful cross with the outside of his foot into the area, where Pape Paté Diouf popped up to head in his first goal after returning to Molde after on a loan move from FC Copenhagen.
Spurred on by their lead, Molde continued to dominate by being to be a little quicker and a bit more aggressive than Rosenborg, the visitors too imprecise in their sporadic attacking attempts to unlock their opponent's defence.
Jönsson decided to give his team a more direct option 15 minutes from time, putting on Steffen Iversen. Within minutes of the veteran striker coming on, Dorsin had sent two searching crosses towards him, Rosenborg finally starting to ask some questions of the home team's defence. With Iversen's big presence up front and his calmness on the ball in tight spaces, it looked like Rosenborg were about to turn the screw.
But Molde and especially their excellent centre-half Vegard Forren, who is currently playing the best football of his career, stood tall and never let Rosenborg overrun them.
Iversen's continued hard work earned Rosenborg a free-kick in injury time, goalkeeper Daniel Örlund leaving his goal to join the attack. Rosenborg gained another corner, but from it Molde countered and with Örlund stranded Etzaz Hussain was left with the easiest of goals, rolling the ball into the empty net to secure the win.
Ole Gunnar Solskjær knows how to celebrate an important goal and deliriously ran onto the field sliding down on his knees for the full Mourinho effect, suit trousers and all. Players, staff and fans were celebrating wildly with him.
This was more than a crucial league win, more than taking one step closer to defending the title. Molde had finally banished the Rosenborg ghost that had been haunting them for almost two decades.
There are still a few obstacles in Molde's route to the championship. They travel to Tromsø next weekend, Per-Mathias Høgmo's team undefeated at home this season. In fact, they have only lost one league game at Alfheim over the past two seasons.
That defeat was inflicted by Molde, who virtually guaranteed their title win with that victory last year. A repeat performance from the visitors would see them taking a likely decisive step towards another championship.
Tromsø's 1-0 defeat at Vålerenga this weekend also extinguished any remaining hope they had of getting involved at the top.
Rosenborg have to go away to a Strømsgodset still high on their very, very late win against Haugesund, the game played a day after Molde's trip to Tromsø.
At the bottom of the table, Viking's Trond Olsen winner against Stabæk confirmed what had looked likely all year, Petter Belsvik's young team now officially relegated.
It has been a sad fall from grace for Stabæk, league champions only four years ago, now mired in financial difficulties and with two former employees and their current sporting director Inge André Olsen charged with fraud last week for events around Veigar Pall Gunnarsson's transfer to Vålerenga last year.
There is still one relegation place and a spot in the play-off game against an Adeccoligaen opponent to be decided. The two teams holding those positions before this weekend came up against each other on the Saturday night, Sandnes Ulf hosting Fredrikstad. The visitors opened best, with Morten Bertolt own goal giving them the lead early on.
Sandnes Ulf equalised through Christian Grytkjær's penalty, before their 19-year-old Irish-Norwegian goalkeeper Sean McDermott made a great save from Martin Pusic after the Fredrikstad striker had been put through on goal.
After that Sandnes Ulf turned on the style. Anel Raskaj put them into the lead before half-time, with another penalty from Grytkjær and goals from Fredrik Torsteinbø and Steinthór Thorsteinsson completing the rout in the second half.
That emphatic win means that Sandnes Ulf leapfrog Fredrikstad into 14th place by one point, in addition to their one game in hand.
With Fredrikstad facing Molde and Rosenborg in two of their last three games, they now look the team likely to follow Stabæk down to Adeccoligaen,another sad chapther in a troubled few years for one of the most illustrious team in Norwegian football history.
Sandnes Ulf will have to face Strømsgodset in two weeks time, but they will now cast their eyes upwards toward Sogndal, who could only draw at home to Aalesund.
Three points now separate the two sides, a gap that can disappear if Sandnes win their game in hand against Tromsø on Wednesday.
Round 27 results: Haugesund 2-3 Strømsgodset, Sandnes Ulf 5-1 Fredrikstad, Odd Grenland 4-0 Hønefoss, Sogndal 1-1 Aalesund, Stabæk 0-1 Viking, Vålerenga 1-0 Tromsø, Molde 2-0 Rosenborg, Brann 2-3 Lillestrøm.
Christian Wulff is a Norgwegian football expert and writes the blog A Hell of a Beating. You can follow him on Twitter @aHellofaBeating.