Tippeligarunden: Molde make it two-in-a-row to spark emotional scenes
Ole Gunnar Solskjær's men learned of their title success standing on the pitch after full-time.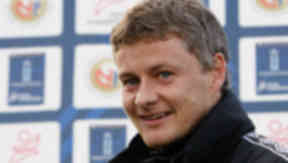 So he's done it. Ole Gunnar Solskjær's Molde have claimed their second consecutive league title.
Solskjær, the legendary striker, is one step closer to also becoming Solskjær, the famous manager. It's a narrative that is a great boost for Norwegian football, giving it much needed international attention. But is it a truthful narrative?
Molde's league win this year is certainly a greater achievement than their historic first championship last season. They had to cope with added expectations, a resurgent Rosenborg team and a league where the big teams – with a couple of exceptions – have slowly started to perform close to their inherent potential.
They also performed in the big matches; in the last three rounds they got a draw away to Strømsgodset and Tromsø, in addition to a long sought-after home win over Rosenborg. That put them in a position before the last two matches where a win over mediocre opposition would be enough to secure the title.
If it is something this Molde team does well, it's routine wins over inferior opponents. It is perhaps their greatest strength and the one main trait Solskjær has brought over from his time under Alex Ferguson and instilled into his Molde side: the ruthless consistency of a team to turn average performances into three points.
Solskjær's Molde are not flashy, not even particularly fun, but they are efficient, sharp and in control, with the added necessarily ingredient of individual excellence when needed.
Their title-winning game against Hønefoss was a perfect example. The visitors had been on a terrible run of form with no wins and only six points from their last 11 games, a safe mid-table position now slowly tuning into an unwanted flirt with the relegation places.
Molde were one point ahead of Strømsgodset who had to go to on-fire Sandnes Ulf, who in stark contrast to Hønefoss' slide into danger were ferociously fighting their way out of it.
Even so, Molde struggled to create any opportunities at all in the first half, with the exception of Jo Inge Berget's terrible miss after Pape Paté Diouf's excellent work down the right side.
At the same time Strømsgodset had taken the lead away at Sandnes Ulf through a thumping volley from Manchester City loanee Abdisalam Ibrahim. Molde went into half-time relegated to second place, now a point behind Strømsgodset in the standings.
Solskjær made two changes at half time, sending on Daniel Chukwu and Joshua Gatt. The substitutions made an immediate impact, Gatt finding space down the right flank to cross in for Chukwu, who rattled the post behind Steve Clark from ten yards out.
Down the coast in Sandnes, Christian Lund Gytkjær had just done Molde a huge favour, getting the equaliser for the home team with a well-placed but not particularly hard shot from 20 yards, Adam Larsen Kwarasey's poor footwork the main reason he was unable to keep out Gytkjær's effort.
Shortly after, Chukwu's movement away from the goal on Magnus Wolff-Eikrem's corner allowed him enough space to rise up and glance a header towards the back post, giving Molde the lead. In a space of five minutes, they had gone from being a point behind to be three points ahead of their title rivals.
Having a superior goal difference to Molde meant Strømsgodset would still be in with a chance of winning title with a draw in Sandnes, especially with Molde would travelling to relegation-threatened Fredrikstad in their last game.
But Ronny Deila's team went in search of a winner and should have got one when Stefan Johansen met Lars-Christopher Vilsvik's cross on the front post, the talented midfielder somehow missing the target with his header from three yards out.
After that, Sandnes goalkeeper Sean McDermott made a great stop from Adama Diomande after the substitute had pulled himself free in the penalty area.
Last year, Strømsgodset's injury time equaliser had denied Molde the opportunity to celebrate their league win in their own stadium. This year Solskjær's men would get to experience that feeling through the same team conceding a late goal.
Fourteen minutes from time, a Sandnes corner ended up with Anel Raskaj 12 yards out and while Kwarasey did well to block the Swede's heavy shot, it went no further than to Avni Pepa who could easily head the rebound in from close range, extinguishing Strømsgodset's title hopes and giving Molde their second title in a row.
Molde didn't create much against Hønefoss in the second half either, instead they predictably controlled the game, doing just enough to get the win. When the final whistle went players and staff expectedly remained on the field to await the final result in Sandnes.
In a lovely, spine-tingling moment, they were alerted to their triumph by the home crowd, a roar of joy building up through the stadium as the news filtered though, the players instinctively running towards their fans behind the goal in celebration, their mutual delight confirming to each other that they were indeed league champions.
It was an experience players, staff and fans fully deserved to share together. It was also tough on a brave Strømsgodset side who would have wanted to give their supporters one last day of hope in their own stadium.
Rosenborg's loss to Fredrikstad, their fifth consecutive defeat in all competitions, means that Strømsgodset now only need a point against already relegated Stabæk in their last game to secure second place in the league.
For all of Solskjær' impressive work in Molde, that should surely be enough to give Ronny Deila the coach of the year award. Guiding this Strømsgodset side to second place and doing it not only on a very tight budget but through following and implementing a positive, consistent and impressive offensive playing philosophy, is arguably a greater achievement than winning the league with this current Molde side.
That argument is not doing a disservice to Solskjær's feat, rather to acknowledge that the two coaches work within two very different environments with starkly different resources at their disposal.
Solskjær is figure head, the leader, of a big organisation where success has come from a combination of financial strength, a clever transfer policy over several years and with an experienced and very knowledgeable backroom staff. Solskjær is not a great innovator, not a great Shanklyesque messiah turning around a whole club and city. Instead, he's the charismatic CEO producing the results expected of him and his powerful company.
That's not to undermine Solskjær's considerable strengths as a manager. His aura and man management have been the necessarily catalysts to take Molde from a nearly team – seven time runners up in the league – to only the fifth Norwegian club to defend a league title.
Solskjær is, in lack of a more subtle description, a winner.
He's also humble enough to know that Molde's financial advantages and the lack of consistency among Norway's other top clubs are undeniable factors in Molde's triumphs.
He won't be caught believing his own hype, he'll never be tempted to think that this astonishing start to his managerial career is all down to his own god-give talents. This is perhaps his greatest strength and something that will be his biggest advantage when he eventually leaves Molde to take up a more high-profile role.
That said, Solskjær is fully expected to still be the Molde coach when they kick off the 2013 season in March. Only two clubs have won the Norwegian title three times in a row and with big, traditional clubs like Viking, Brann and Vålerenga expected to improve next year it will again take a progress in performances to preserve the top spot.
But Solskjær's main goal will be to deliver success for Molde in the competition he experienced his greatest moment as a player. They were an injury time penalty miss away from getting through to the last qualifying round in this year's Champions League qualification, with anything else than a place in the group stages next season unacceptable to Solskjær.
While there will be plenty of rumours around him before Molde get the chance to prove themselves good enough for a place among Europe's elite clubs, expect Solskjær to stay and finish the incredible journey he has started with his old club and for a brief moment bask in the satisfaction of yet again creating history with them.
Now that one of the most exciting title races in many years has been decided, attention turns to an equally fascinating battle to avoid relegation on the final day of the season.
Sandnes Ulf's victory over Strømsgodset was their third home win in a row, having previously beaten both Fredrikstad and Tromsø 5-1 in what has been a perfectly timed burst of form. It has catapulted them above the relegation and play-off places for the first time in months and they sit in 13th place with 32 points before they travel up the west coast to met Aalesund in their final game.
15th place means relegation, while ending 14th will only be a temporality retrieve, a further two-leg tie with the winner of the Adeccoligaen play-off awaiting to decide the final make-up of next year's Tippeligaen.
Fredrikstad's surprise win away to Rosenborg keeps their hopes very much alive even though they occupy the last relegation spot. They trail Sandnes Ulf with two points, although they also need to make up a goal difference of five to climb above them.
Fredrikstad will host what they hope is a Molde team for whom this game is now an irrelevance and who also got their two last Europa League games to focus on.
Lodged between Fredrikstad and Sandnes Ulf in the play-off spot is Sogndal with 31 points. They threw away a golden opportunity this weekend, losing away to Stabæk in what was only the host's third home win of the season. Sogndal do host Brann on the final day, the visitors only having the preservation of their current 6th place to play for.
Hønefoss have somehow managed to end up in the relegation battle as well, having looked certain to occupy a very respectable mid-table position earlier in the season.
The promoted team sit precariously on 12th placed with 33 points, their goal difference only superior to Sogndal and Sandnes Ulf by a single goal.
They also face a wounded Rosenborg in their last game, who will be desperate to end their season on a positive note after they have collapsed dramatically over the last few weeks, their coach Jan Jönsson now under pressure after two years without a trophy.
So with four teams within three points and only two safe positions, the last round of Tippeligaen 2012 will be all about who gets to come back next season.
Results round 29: Rosenborg 0-1 Fredrikstad; Brann 0-2 Tromsø; Haugesund 1-0 Viking; Odd Grenland 3-0 Aalesund; Stabæk 2-1 Sogndal; Molde 1-0 Hønefoss; Sandnes Ulf 2-1 Strømsgodset; Vålerenga 1-2 Lillestrøm.
Christian Wulff is a Norgwegian football expert and writes the blog A Hell of a Beating. You can follow him on Twitter @aHellofaBeating.