Tippeligarunden: Solskjær's poor start, Rosenborg's forgotten gem
Christian Wulff blogs on another dire start to a campaign from Molde.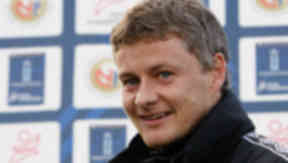 Molde's world turned upside down
The clash between Sandnes Ulf and Haugesund most have been the least anticipated match of the third round of this year's Tippeligaen and the nature of the game – a non-uneventful 1-1 draw – suited the total lack of anticipation and interest in it.
Even so, by sharing the points the two teams also made sure that their game became the catalyst for the biggest story of the season so far and what could be the defining moment of Tippeligaen 2013. When Edier Frejd equalised for the home team in second half he made sure that both clubs got their first point of the season, leaving only one team on zero points after three games, rooted to the bottom of the table.
That team is Molde, winner of the last two league championships and with every expectation of making it three in a row.
Before this season they had never lost more than one consecutive league game under Ole Gunnar Solskjær's reign, losing only six during each of the last two seasons. They are already half way to that mark after the first three games this year.
Molde are struggling to find their rhythm and the clinical efficiency that was their trademark over the last two years. Their best player, the elegant centre-half Vegard Forren has left to join Southampton while top-scorer Davy Claude Angan was tempted by the promise of big yuans in China.
While Molde have no defenders quite of Forren's quality they have plenty of good options to replace him, but Angan's departure have been felt much more. He has been replaced by youth and promise, but not by a proven goalscorer or even a traditional centre-forward.
And still, the alarm bell volume shouldn't be turned up to 11 just yet. Molde have previous when it comes to bad starts under Solskjær.
They were humiliated by a 3-0 loss to Sarpsborg 08 in his first game in charge in 2011, winning only two of their first six games that year. Last season, they lost their first three away games.
This season, they've narrowly lost away to Viking in their opening game after first going ahead and then against Brann this weekend, a late Amin Askar goal the only difference in a tight game which could have tipped either way. Stavanger and Bergen will be two of the toughest places to capture points this season and Molde could easily have gotten all six of them.
Their home loss to Lillestrøm last week was a lot more worrying, illustrating their lack of clinical finishing and how they can be easily bullied in defence.
They will welcome what should be a straightforward home win over Sogndal this weekend which at least would take them off the bottom of the table, the visitors only a point ahead of them. If by Saturday evening Molde is still last, the talk of a crisis will no longer be hyperbole.
Rosenborg's forgotten gem finally shining
Even if Molde have won the league the last two years after a poor start, they will have overcome a much larger obstacle this season if they are going to have any chance of repeating their triumphs. This year they face a Rosenborg team that looks very different to the version that came third in the previous two campaigns.
With nine points and 9-0 in goal difference after three games they cut an intimidating figure at the top of the table, reminiscent of the Rosenborg teams of old that basically bulldozed their opponents into submission for over a decade.
Their attacking force is very impressive, five of their front six players arriving at the club within the last nine months, but don't underestimate the new aura of confidence that permeates through their defence, starting with 30-year-old goalkeeper Alexander Lund Hansen.
On the club's books from 2001 to 2008, he got only six league games, going on loan to achieve first team football before stints in Denmark and at Start. Returning to Rosenborg last summer, he made what was arguably the save of the season away to Odd Grenland, a stunning low stop from Frode Johnsen's close-range header.
Promoted to first choice goalkeeper over Daniel Örlund before this season, he again frustrated Johnson in the first round this year, saving a penalty from the Odd striker to help Rosenborg take all three points in their opener. While Hansen was only really called into action with his team already 4-0 up against Sogndal, he showed his quality with another stunning save from Azer Karadas' header.
Even in their total dominance of Norwegian football during the 1990s and the start of the last decade, goalkeeper was the one position where Rosenborg wasn't entirely convincing, struggling to find a number one that could organise, lead and have the mental strength to allow him to pull of great stops when needed, often after large periods of inactivity.
Maybe the solution had been right under their nose all the time, or maybe it is just know Hansen is ready to step up to the plate and become the answer to Rosenborg's goalkeeping dilemma. Either way, he looks set to become an integral part of a Rosenborg that this season looks to have improved in every area of their team.
An unlikely clash of the undefeated
Rosenborg is joined at the top of the table by a very entertaining Aalesund side, which beat Hønefoss 4-3 in the game of the round. It also showed why they are not likely to stay close to Rosenborg throughout the season.
Going 2-0 up within 15 minutes, within five minutes of the second half they were losing 3-2, having been picked apart by a team not renowned for their attacking abilities. Aalesund bounced straight back and were quickly in front again, Demar Phillips giving them their third straight win.
Those victories have not come against the most impressive of opponents; Hønefoss and Sandnes Ulf are both clear relegation contenders, with Haugesund, beaten 3-1 in the opening round, being one of the weakest away teams in the league, especially when visiting a ground with an artificial pitch.
While Aalesund's true quality will be tested soon enough, they're an enjoyable, eclectic mix of young Norwegian talent and more experienced foreign imports with a coach in Jan Jönsson that not only knows how to succeed in Tippeligaen, but who has a massive point to prove after being let go by Rosenborg last season.
Before the season, Aalesund's next game would have been seen as being against the most obvious relegation candidate in the league. Now it's a match-up between the two teams that have been the positive surprises so far this year.
That so few people thought Sarpsborg 08 would still be unbeaten after three games is not only a reflection of their perceived quality, but also the calibre of their opponents. They beat highly rated Viking in their only home game so far, while getting away draws against Lillestrøm in the first round and then Strømsgodset, last year's Tippeligaen runner up, this week.
18-year-old striker Mohamed Elyounoussi has been integral to their good start so far, his cool finish securing Sarpsborg's draw and getting him his third goal of the season. It leaves Brian Deane undefeated in his professional coaching career, his team's five points from three games every bit as impressive as their upcoming opponent's 100% record. Something will have to give this Sunday
Round 3 results: Odd Grenland 2-0 Vålerenga, Start 2-2Tromsø, Brann 1-0 Molde, Strømsgodset 1-1 Sarpsborg 08, Lillestrøm 0-1 Viking, Aalesund 4-3 Hønefoss, Sandnes Ulf 1-1 Haugesund, Sogndal 0-4 Rosenborg.
Christian Wulff is a Norgwegian football expert and writes the blog A Hell of a Beating. You can follow him on Twitter @aHellofaBeating.