Tippeligarunden: Strange at the top, weird at the bottom in Norway
Christian Wulff assesses a bizarre look to Norway's top league so far.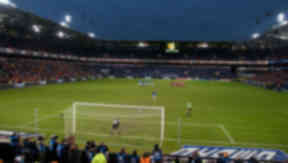 In Oliver Stone's presidential biopic JFK there's a scene where District Attorney Jim Garrison – played by Kevin Costner – and his staff are discussing the investigation they have started into the assassination of President Kennedy.
Urging them to question the accepted truths and to view everything through a whole new prism Garrison implores them: "Y'all gotta start thinking on a different level, like the CIA does. Now, we're through the looking glass here people! White is Black. And Black is White."
Followers of this year's Tippeligaen will appreciate that sentiment. The first four rounds of the season have thrown them into a parallel universe, stuck in a snow globe that's been tipped upside down, still waiting to be turned the right way around, let alone having the white flakes gently fall back into place.
How Ole Gunnar Solskjær wishes he could blame Molde's leading part in this Twilight Zone special episode on a conspiracy led by shadowy government official. Instead he and his team must carry the full responsibility for what have been, even considering Tippeligaen's normally high ridiculousness levels, a truly head scratching start to the season.
As mentioned in the last two blogs, Molde are no strangers to being slow out the blocks under Solskjær, overcoming initial troubles in both years to take the last two league titles. There were no shame in the narrow away losses against Viking and Brann, indeed they lost both the respective games against them last season. Their first home loss against Lillestrøm was worrying, but the Canaries are a decent team more than capable of troubling anybody on their day.
Sogndal, however, looked the perfect opposition to turn the tide against on Saturday. From the tiny village of the same name, population 8000, they've just managed to avoid relegation in the two seasons since they got promoted in 2010, winning a total of only four away games in that period. This year they had one point and a goal difference of minus five after the opening three games.
Then they went to Molde, took the lead within 15 minutes after a strong opening and spent the rest of the game absorbing everything the home team tried to throw at them. A horrific mistake by goalkeeper Ole Söderberg four minutes from time then put Sogndal 2-0 up, Etzaz Hussain late equaliser not enough to prevent the unthinkable: the current champions have started their second consecutive title defence with four straight losses. They are twelve points from the top of the table and this weekend they travel to Odd Grenland, another arena where they lost last season.
The Molde fans must feel they have fallen straight down the rabbit hole. The strangest thing may be that no one is yet willing to predict that they won't wake up from this nightmare as league champions again in November.
Tippeligaen is very much the Mad Hatter of the European football tea party this year.
Good company at the bottom
Sogndal's win was only narrowly more staggering than what happened in Oslo a few hours later on Saturday. Strømsgodset, last year's runner-up, had experienced an indifferent start to the season, gaining only four points from what has looked like a fairly easy fixture list.
They were facing another team whose opening had been below expectations, Vålerenga standing with one win and two losses so far. It was not what had been expected after the return of Kjetil Rekdal, the coach that led them to the league title in 2005. After seven seasons of largely major underachievement, Rekdal was seen as the man to bring Vålerenga back to its true potential as one of the richest, well supported and historic clubs in the country.
Instead they were left in a Molde-like state of disbelief as Strømsgodset raced to a 3-0 lead after just 15 minutes. The home team never recovered, leaving them second last in the table only above the reigning champions. It was also a statement of intent from Ronny Deila and his team, who finally seem to have find the rhythm and dominance of play that saw them push Molde all the way last season.
An odd top as well
The league table does not look any less odd if you move from the bottom to the top. Newly promoted Start had travelled north to face what had looked like an infallible Rosenberg team, who had a perfect record of nine points and 9-0 in goal difference from their first three games.
They took the lead after just eight minutes against Start, but could not put the game out of reach, the visitors instead grabbing a point through a very late Per Vågan Rønning own goal.
That lead the door open for Aalesund to take what is a much unexpected first place. Inflicting the first loss of the season on Brian Deane's Sarpsborg, they are now the only team with a 100% record.
Finishing 9th and 11th the last two seasons, it is dizzy heights for a team that have never finished higher than fourth in Tippeligaen before. It must also have been highly satisfactory for Jan Jönsson to go past Rosenborg, the team that let him go at the end of last season. Having lead Stabæk to their first ever league championship in 2008, nobody are yet mad enough to predict that he can repeat that feat with Aalesund this season but give it a couple of games – it's that kind of Tippeligaen season.
Weirdness in the middle
While the real story so far is who inhabits the bottom and top two places of the league, there are plenty of quirks and curiosities in-between as well.
Brann's goal difference is only one better than Molde's, but they are a full 10 places above them. In fact, only three of the ten teams below Brann have a worse goal difference than them so far, having impressed in their two home wins over Vålerenga and Molde while at the same time losing on both their travels to Rosenborg and Lillestrøm with a combined score of 0-6.
Should you concentrate on defending or attacking in Tippeligaen? It seems to be the former for Hønefoss. They've scored the third most goals in the league so far with seven, yet they are lying fourth from bottom with three points.
The 15 goals that have been scored in their four games so far are the most of any team. Last year at the same stage they had only scored three goals but were up in fifth place, their four first games that season only containing six goals. For Hønefoss, defence is very much looking like the best attack.
Just to complete one of the weirdest Tippeligaen weekends you'll ever see, Haugesund and Ulf Sandnes both won games on an artificial pitch. It had been almost 17 months since Haugesund last recorded a win away from natural grass, while Sandnes Ulf artificial drought had lasted exactly a month longer, their last win coming in October 2011.
Round 4 results: Rosenborg 1-1 Start, Molde 1-2 Sogndal, Vålerenga 0-3 Strømsgodset, Sarpsborg 0-2 Aalesund, Viking 1-0 Odd, Tromsø 1-2 Sandnes Ulf, Hønefoss 0-1 Haugesund, Lillestrøm 2-0 Brann.
Christian Wulff is a Norgwegian football expert and writes the blog A Hell of a Beating. You can follow him on Twitter @aHellofaBeating.