Tippeligarunden: Fictional Republic of Bergen, more bad news for Molde
Christian Wulff looks back at more weekend intrigue from Norway's Tippeligaen.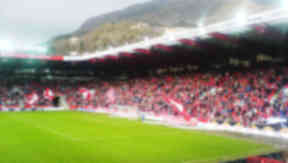 Stay in Norway for little a longer than a few minutes and you'll be certain to hear someone repeat the old notion that Bergen is only technically a part of country, the implication being that its inhabitants has a cultural and societal self-perception so distinctive from the rest of the population that it makes them identify more with a fictional Republic of Bergen than the Kingdom of Norway.
It's nonsense of course, a recycled and tired cliché usually purported by people outside of the city rather than being something remotely tangible or worn as a proud badge by the locals.
While there is certainly a distinctiveness to Bergen it is no stronger than that of any other big city in Norway, all now so diverse and dynamic that any attempt to pigeon-hole its inhabitants would be ridiculous.
Hence the clichéd characteristic of an overbearing, loudmouthed, tribal Bergenser being as untrue and insulting a stereotype as the ones of a moonshine-soaked, jovial Trondheim simpleton and the patronising, contemptuous Oslo wide-boy.
However, there isn't another city in Norway that so closely identifies itself with its football team than Bergen. While Oslo is a city much, much more divided in loyalty than Vålerenga fans would have you believe, Trondheim, Stavanger and Kristiansand all have their flagship and universally supported teams in Rosenborg, Viking and Start
Still, they are not even close to be as intrinsically linked as Bergen and Brann. And so far this season they are playing in a way that make Bergen look like it really is in a whole different world than the rest of the country.
In their three homes games this season they've convincingly beaten Molde, Vålerenga and this weekend Viking, supposedly three of the best teams in the league, with a combined scoreline of 6-1.
In their two trips outside Bergen they have no points or goals, instead conceding six in total to Rosenborg and Lillestrøm.
They are nevertheless turning into a vibrant and entertaining team, and while they are currently mixing experience with promise, foreign imports with home-grown stalwarts their future will likely be dominated by a very talented and promising generation of local talents, the midfielder Fredrik Haugen, 20, and attacker Kristoffer Larsen, 21, already regulars.
While it would be churlish to criticise coach Rune Skarsfjord after another solid win, there are those who wishes he would trust youth even more. While Martin Pusic can be an unselfish and useful centre-half, who provided a good assist to Erik Huseklepp's great opener against Viking, the Austrian striker have a scoring record of only one in four so far in his 31 Tippeligaen games, Brann his third club in just over a season in Norway.
Many fans want to see a much bigger role lot for Bård Finne, the striker who turned 18 only in February. At the end of last season Finne got three goals in his first 35 league minutes for the club, spread out over five substitute appearances. Still with only one start in the league for Brann, he has been granted one outing off the bench so far this season.
Their goal difference still negative, Skarsfjord might be tempted to give the youngster a proper run soon to see if Brann can start to replicate their home form away from their beloved city. They will have to wait another week though, as they will be welcoming Odd Grenland to Bergen this Friday. And still, no passports required.
No chance to bury the bad news for Molde
After coming through another tricky away game this Saturday, Molde could relax afterwards, safe in the knowledge that they had now achieved the same amount of points in their three visits to Viking, Brann and Odd Grenland this season as in their corresponding fixtures last year, when they successfully defended their title.
Hell, their goal difference is even two better than compared to the previous season's games. There is now no reason why they shouldn't kick on and make it three in a row, especially as they've already started to close the gap on their biggest rivals Rosenborg.
Alas, the most unapologetic, brash and shameless political spin doctor would baulk at any attempt of portraying Molde's start to the season as anything other than a disaster. While Daniel Berg Hestad's equaliser against Odd secured a decent result, and yes, the same point tally as in these three away games last season, Molde's problem is that this was their first point of the year in what was their fifth game.
And they are six points behind last year's schedule, having already lost their home games against Lillestrøm and Sogndal in which they triumphed in 2012. They stay bottom for another week, 12 points from the top, the only team yet to win a game.
Next week they are visited by Strømsgodset, the team that pushed them all the way for the title last season and who are currently third after a solid 1-0 win over LIllestrøm this weekend. If those 90 minutes don't go Molde's way, even Malcolm Tucker would shake his head in quiet resignation, hold his hand up and expected a very bad news day.
At least Molde didn't actually lose any ground to leaders. Aalesund surrendered their 100% record after a 0-0 draw at home to Tromsø while Rosenborg lost their unbeaten run as they went down 3-1 in Haugesund, very much aided by a terrible penalty decision against them in the first half. Still, Molde need their first win – and they need it quickly – if they are going to be able to spin anything positive out of their season.
Not so top scorers
16-17-16-17-14. That's the less than impressive sequence of the goals scored by the last five top goalscorers in Tippeligaen since Torstein Helstad became the last one to break the 20-goal barrier in 2007, the only time that has happened since the turn of the century.
Helstad got 22 in 26 games that season and since the introduction of two more teams in 2009 the most prolific scorers in Tippeligaen have just crept above an average of a goal every other league game. The early signs this season are that the pattern will repeat itself.
There are still a genuine expectation that Torgeir Børven will take a step up to become the consistent, productive goalscorer Norwegian football so sorely need, but after scoring in his first two games he has struggled with the rest of his Vålerenga team since.
Even Rosenborg, the team who have scored the most goals this season do not have an obvious top-scorer, their 11 goals spread over 9 different players so far.
Get on the bus
Sarpsborg decided to take the bus all across the country to Sogndal, an eight hour epic journey through some of the most beautiful landscape you'll ever see, with a quick ferry ride included.
It wasn't quite as picturesque on the pitch with a 0-0 draw, but Brian Deane will be happy to take a point off what is expected to be one of their fellow relegation battlers, especially after Tom Erik Breive was sent off just before half-time for the away team. Then they got back on the bus again for the journey home. George Monbiot would be proud.
Round 5 results: Start 1-0 Vålerenga, Odd Grenland 1-0 Molde, Brann 2-0 Viking, Aalesund 0-0 Tromsø, Strømsgodset 1-0 Lillestrøm, Sogndal 0-0 Sarpsborg 08, Sandnes Ulf 1-1 Hønefoss, Haugesund 3-1 Rosenborg.
Christian Wulff is a Norgwegian football expert and writes the blog A Hell of a Beating. You can follow him on Twitter @aHellofaBeating.