Tippeligarunden: Champions in crisis, Rosenborg's illusion of grandeur
Christian Wulff continues his trip down the rabbit hole in the ever-shifting Norwegian league.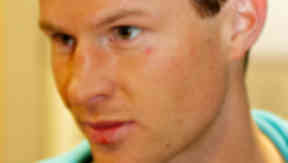 Even in the best of years it's a brave person who tries to draw any conclusions from a set of Tippeligaen results until at least, well, the end of the season.
But in a league notorious for its unpredictability and in-consistency, the opening six rounds of this year's version is something else.
Tippeligaen 2013 fell into the rabbit-hole a couple of weeks ago and it seems it'll be a long time before things are back to normal again.
So it would be downright foolish to predict anything at this point, but being unwise has never stopped this blog before.
After another ridiculous week in Norway three conclusions will therefore, carefully and without any true conviction, be made.
The illusion of grandeur
The first is that Rosenborg's perceived indestructibility was just another illusion of grandeur after all.
Following three straight wins and having played 87 minutes of their fourth game they looked like they had rekindled that unstoppable force of nature that saw them dominate a league so completely and for so long throughout the 1990s and the start of the last decade that it has no real comparison in modern football.
With nine points and a goal difference of 9-0 after three games, they should have been much more than one goal up against Start at home two week ago. Then Per Verner Rønning steered Espen Børufsen's shot into his own goal two minutes from time for a shock equaliser.
It didn't take more huff and puff than that to blow open the structural weaknesses of what was supposed to herald the great re-construction of the house that Nils Arne Eggen built.
Rosenborg went on to lose their next game away to Haugesund and then folded completely against relegation candidate Sandnes Ulf at home this weekend.
Steinthor Thorsteinsson ran straight past the home defence to give the visitors the lead in the first half and Sandnes should have put the game out of reach after the break when Tore Reginiussen was sent off after pulling down Tommy Høiland, Alexander Lund Hanssen saving the penalty from Aksel Berget Skjølsvik.
Rosenborg was reduced to nine men in injury time when Nicki Bille Nielsen was given a second yellow for dissent, the Danish striker getting so frustrated and angry he tore his shirt apart walking off the field and then went straight into a verbal twitter fight with Høiland after the game.
Nielsen and Rosenborg have clearly been rattled. Since Start's late equaliser they have been frantically searching for their lost early season form. The team looks as surprised as everybody else that their winning formula have seemingly just vanished in front of their eyes, like a confused toddler completely befuddled by the sudden disappearance of an adult behind a pair of hands.
While still only three points from the top after leaders Aalesund lost their first game this weekend against Vålerenga, Rosenborg now have more defeats than Brian Deane's Sarpsborg 08, the team widely tipped before the season to prop up the bottom of the table.
They need to channel that frustration physically manifested by Nielsen's anger into something a lot more productive and they need to do it quickly - they travel to Aalesund on Saturday to face not only the current table toppers but also Jan Jönsson, the coach they fired at the end of last season.
Molde are in crisis
The second conclusion after this weekend is that Molde's crisis is real. Very real. Even after last week there was still a few precarious remaining straws being held on to.
Their four losses had included narrow away defeats to two strong home teams in addition to a couple of freakish results in Molde, explained away with the same sentiment as when two Glasgow buses decide to show up at the same time.
After Sunday's game, there are no straws left to stop Molde from falling into the ravine of Big Problems. This was the maybe the worst defeat of season, more than anything because it was against Strømsgodset, the team that pushed them all the way for the title last year.
The visitors were also a team than even after a decent start to the season had something to prove - that they were more than a one season wonder, that the magic could happen again.
It was a statement game and Molde failed it completely. Their attack toothless, their trouble at the back illustrated perfectly by the fact that this was their seventh centre-half partnership in six games.
Strømsgodset held a deserved 2-0 lead – which should have been bigger – until Daniel Chimu Chukwu pulled one goal back for Molde with seven minutes left, the home team finally starting to enforce themselves on the game with Jo Inge Berget hitting the bar shortly after Even Hovland had a goal disallowed for off-side in injury time. Those few minutes at least showed that there is still some spirit in the Molde team but their problems won't be overcome by a short burst of energy.
A fifth of the season has now passed and the two-time defending champions have one single point. The four years that Tippeligaen have consisted of 30 rounds the winner have achieved 68, 69, 58 and 62 points.
Even if Molde won their remaining 24 games this season they would only get to 73 points, their quest for a third straight league championship can virtually be over in a few weeks time. Have European football ever seen a worse start to a title defence?
Strømsgodset's statement of intent leads to the third and final conclusion fool heartedly taken from this round; they will certainly be challengers again this year. In his sixth season in charge it seems that Ronny Deila, still only 37, may still be on an upwards trajectory with his wonderfully crafted team, even if it's only one further step to take before the very top of Norwegian football is reached.
Vaagan goes top as his old club goes down
Over the last three seasons, Queen's Park Rangers have signed 44 players. You'll be hard pressed to find one who made less of an impact than Petter Vaagan Moen. Arriving on a free from Brann in the winter transfer window two years ago, he made only seven appearances in the Championship before being dropped from QPR's Premier League squad the following season.
He went back to Norway to join Lillestrøm after just a year in west London, getting six goals and nine assists from his midfield position last year. On Saturday, the day before his old club got relegated back to the Championship, he converted a penalty in Lillestrøm's 3-2 win over Start, his fourth goal of the season making him to the league's top scorer so far.
Never given the chance to play in a Premier League game by Neil Warnock, he has restored his career back in Tippeligaen. At 29, he is unlikely to ever return to England, but nobody would have begrudged him a personal moment of reflection this weekend on how things have changed both for him and his old club over the last 18 months.
Results round 6 Brann 2-0 Odd Grenland, Lillestrøm 3-2 Start, Vålerenga 2-1 Aalesund, Viking 4-1 Sogndal, Rosenborg 0-1 Sandnes Ulf, Tromsø 2-1 Haugesund, Sarpsborg 08 1-1 Hønefoss, Molde 1-2 Strømsgodset.
Christian Wulff is a Norgwegian football expert and writes the blog A Hell of a Beating. You can follow him on Twitter @aHellofaBeating.