Tippeligarunden: Tragic week for Strømsgodset, Rosenborg take step forward
Christian Wulff recaps an emotional week in Norway's top league.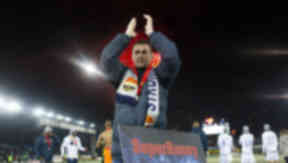 Strømsgodset has just beaten Viking 3-1 to go top of Tippeligaen for the first time this year but coach Ronny Deila's first reaction to the Norwegian press after the game was one of reflection and self-criticism.
"I will need to apologise to the players," he declared.
Deila was referring to his half-time hair-dryer to his team who he felt, even as they had gone into the break with a 2-0 lead, had lacked the energy and purpose demanded by him in the latter part of the half.
The reasons for his reflection afterwards are heartbreaking. On Friday afternoon their kit-man Jan Tore Bjerkeli died suddenly, only 56-years-old.
Bjerkeli had been involved with Strømsgodset for almost 30 years, as a supporter organiser, match-day host and several stints as kit-man, with his wife currently employed as the club's secretary. On the same day midfielder Abdisalam Ibrahim lost his younger sister after a period of illness.
Deila himself admitted that the tragic events this week had probably affected his reaction at half-time. 'The experiences of the past few days have been extreme. I should have realised how hard it had been for everyone and known that I couldn't demand the same of the players after all of this.
Their performance was a lot more impressive than I realised considering what they have gone through', he said to journalists afterwards.
It's his ability to be humble, reflective and yet demanding that is the key to Deila's personal qualities as a coach. He's created an environment throughout his six seasons at Strømsgodset where such admittance of error are seen not as a weakness, but rather something that will strengthen the cohesion within the team and bring everyone closer together.
Strømsgodset had, ironically enough, had a great start to the game. Their opening goal was an absolute joy, Stefan Johansen finding right-back Lars Christopher Vilsvik with a wonderful, incisive through ball. Running at full speed Vilsvik took the ball down on his chest, ran past a Viking defender and found the roof of the net from a tight angle with a powerful and precise shot.
It was the right-back's fourth goal of the season, cementing his place as one of the most exciting players in the league. Muhamed Keita extended the home team's lead after steering home a wonderful cross from Vilsvik.
Patrick Ingelsten put Viking back in contention through a penalty just after the interval but Adama Diomande secured the win for Strømsgodset with twenty minutes left, leaving them top after a very emotional week.
Rosenborg finally takes a step forward
Strømsgodset became the third team to take the number one spot in the league this season, their path cleared by a draw between the two previous table toppers. In their first six games between them, Aalesund and Rosenborg won them all, scoring 16 and conceding only three.
In the next eight games, they have now only won one. If not a total collapse, it has been a steep reversal of form, Aalesund slipping down to second behind Strømsgodset while Rosenborg, who only three weeks ago had looked indomitable, now in sixth. However, the visitors might come away from this game with a renewed sense of purpose after the way they earned their point.
After they scored early on in their fourth game of the season against Start, Rosenborg had by the second half against Aalesund conceded seven goals with only one scored over the next 340 minutes of play. That after starting the season with 10 straight goals without reply.
Aalesund had gone 1-0 up in the first half from Leke James' header, Fredrik Ulvestad extending the lead after the break with a thunderbolt from the edge of the area. It looked set to be a sweet revenge for Jan Jönsson, leading his new team to victory – and top place in the league – over the club that let him go after last season.
However, Czech attacker Borek Dockal got Rosenborg back into the game halfway through the period, dancing through the Aalesund defense, his finish stunningly saved by Sten Grytebust, only for Tarik Elyounoussi to tap in the rebound. Seven minutes later Rosenborg were level, John Chibuike converting after Tobias Mikkelsen clever run and cross.
It came agonisingly close to a perfect comeback for the visitors when Ole Kristian Selnæs' shot from 18 yards hit the post in injury time. Those twenty-five minutes, and the impressive way the team finally managed to get a point from a losing position, might just have put Rosenborg's season back on track.
Home & Away
Another team that was widely expected to hold top spot at some time this season is still rooted to the bottom. At least reigning champions Molde doubled their points total of the year with a draw away to promoted Start. They are now 14 behind leaders Strømsgodset, the team they beat to the title last year.
They are still to take a single point from three home games and host Aalesund in a very interesting match this Sunday.
A team that clearly prefers to stay at home this season is Brann. They look like a genuine title contenders when playing in Bergen, swatting aside Molde and Viking among others, leaving them with a perfect record of four wins in four and a goal difference of 8-1.
On the road however, they look worse than even, well, Molde. Losing 3-1 this weekend to (much) smaller west-coast neighbour Sogndal meant their third loss in three away games, conceding nine in total with Armin Askar's injury time equaliser their first goal away from home this season.
Even losing all their away games so far haven't stopped Brann from reaching fourth and they are heading back home to face Start this weekend. Their next away game is against Strømsgodset through, who have only lost one home game the last two seasons.
Round 7 results Sandnes Ulf 1-2 Vålerenga , Aalesund 2-2 Rosenborg, Odd Grenland 2-1 Lillestrøm, Strømsgodset 3-1 Viking, Hønefoss 1-1 Tromsø, Haugesund 0-1 Sarpsborg, Sogndal 3-1 Brann, Start 1-1 Molde.
Christian Wulff is a Norgwegian football expert and writes the blog A Hell of a Beating. You can follow him on Twitter @aHellofaBeating.