Tippeligarunden: The Big May Rush as Norway takes a summer break
Christian Wulff sees Molde gain a shred of respect as Strømsgodset reflect on a fine start.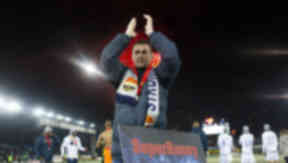 While most of European football has been winding down, enjoying a few nice aperitifs after a long, festive meal of a season, Tippeligaen have been busy gobbling up the hor d'oeuvres, frantically making sure they won't go hungry before its unusual long summer break.
Six rounds have been played in May, crammed into three frenetic weeks.
The Big May Rush has partially been for what is now a rarity in Norwegian football - pausing to accommodate an international tournament. Norway's U21 team, perhaps its most complete and talented generation ever, will participate in the European Championships in Israel starting next week.
There is also the small matter of a World Cup qualifier against Albania for the senior team, in addition to the third round of the domestic cup. So for the teams that have played six league games in 22 days, there will now be a further 26 nights until the 13th round kicks off in late June.
The last two rounds, as the whole first part of the season, has belonged to Strømsgodset. First they provided a master class in clinical efficiency away to Start, going 3-0 up within 18 minutes and running out 6-0 winners in a game in which they were actually less dominant than the score line suggest.
Their next game was a demonstration of doing exactly enough of what was needed. Going behind to the new pretenders Aalesund they hit back with predictable ease, going into the break 2-1 up after goals by Diomande and Kovacs. Aalesund were the better side in the second half, but Strømsgodset saw the game out in a fashion that will do nothing do dampen their title expectations.
That result was Strømsgodset's fourth win in a row, having won eight out of the last nine leagues games, undefeated since their only loss so far this season in round two against Hønefoss. Five points ahead of second placed Rosenborg, their superior form so far illustrated perfectly with the fact that this is two points more than any other gap between teams next to each other on the table.
They were six points ahead in first place more than halfway through last season, eventually having to settle for second behind Molde. They seem a lot more prepared and capable to defend their lead this year, Ronny Deila's team looking confident, effective and, above all, like they are truly enjoying their football.
Last year's winners Molde have at least been able to go on holiday with a tiny glimmer of hope for the rest of the season, having finally managed to drag themselves up from the bottom of the table and all the way up to, well, second bottom.
They first secured an inspired goalless draw away to rivals Rosenborg, all the more impressive after going down to 10 men after only 20 minutes, Martin Linnes sent off after a controversial professional foul. Molde hang on for what was very much a moral victory spurned out of their grievance about the red card.
That propelled them straight into their most convincing game of the season as they swatted Hønefoss aside with a 4-0 home win in the next game. Being 19 points behind Strømsgodset, their title is already relinquished, but the rest of the season will be about achieving respectability and something that may seem very far away from almost-the-bottom-of-Tippeligaen - qualification to the Champions League group stages.
Strømsgodset's only viable contender for the title is still Rosenborg. They would have been heavily disappointed after being unable to break down Molde even with a numerical advantage for most of the game, but they still go into the summer break on the front foot, having taken a strong 2-1 win in Oslo against what seems like a Vålerenga side still struggling to find their feet under Kjetil Rekdal. Having been predicted by many to fight for a European place, Rekdal's team are now in 13th, only three points from relegation.
Tippeligaen is a place where big changes can happen very quickly though. There are only seven points between Haugesund in sixth and Sandnes Ulf who props up the rest of the table in 16th and last place. When the league reunites after the extended break, the focus will be on Strømsgodset and Rosenborg's fight for the title and two other big clubs' struggle to get away from the relegation quagmire.
Although, spare a thought for Brann supporters. They have seen their team complete a perfect home season so far, winning all their games in Bergen with a combined score of 15-2. It's just a shame that as well as being the best home side in the league, they are also the worst away team.
They've lost on all their travels so far, conceding 13 in five games and scoring only once. Brann's ultimate topsy-turvy start to the season have brought them fourth place, only three points behind Rosenborg. If they can use their league holiday to find a way to perform on the road, they might yet still make things even more interesting at the top of the table.
Christian Wulff is a Norgwegian football expert and writes the blog A Hell of a Beating. You can follow him on Twitter @aHellofaBeating.