Tippeligarunden: Action returns after four week break as Under-21s impress
Christian Wulff gets his teeth into the return of league action in Norway.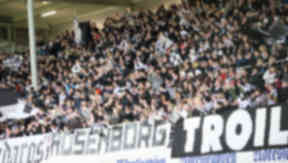 Tippeligaen, one of the leagues given the responsibility of giving football lovers their fix of competitive matches over the long period where most of Europe take its holidays, returned after a four week extended summer break this weekend.
Some 27 days had passed since the last league fixture, four weeks which had neatly encapsulated the current state of Norwegian football.
The senior national team came close to total humiliation in Tirana, instead settling for a partial one, as they needed a late equaliser from full-back Tom Høgli to avoid their second straight defeat to Albania.
Even after a shambolic campaign in what is arguably the weakest qualifying group in Europe, they are still in the running to get to Brazil next year, now two points behind the Albanians who currently occupy the play-off place.
If the present is plagued by frustration and disappointment, the only challenge when it comes to the future seems to be keeping the optimism from overflowing.
The Norwegian Under-21 team went to the European Championships in Israel full of confidence, and more importantly, quality. They overcome horrendous referring to draw with the host, before they clinically dispatched a hapless England team 3-1 and came within 30 seconds of defeating Italy in the group stages.
Ørjan Nyland, the goalkeeping hero from last year's Norwegian cup final, did have to keep his team in the game with some incredible saves against the magnificent Spanish team in the semi-final, but with five minutes left Norway went agonisingly close to an equaliser before Isco and then Morata secured the win for Spain straight after.
The nature of international championship can give a false impression of the true standings of national team, but this generation of young Norwegian players have earned the right to be considered as one of the top five in Europe just now.
With Egil Olsen certain to be replaced as after the World Cup qualifying campaign, the Norwegian football authorities need to find a coach capable of releasing the inherent potential of this impressive generation on the senior stage.
Back on the domestic front, there were high hopes that Tippeligaen's first outing after its long break would provide some strong indications on how the rest of the season would play out.
All of the teams in the top 6 were to face each other; including leaders Strømsgodset travelling to second placed Rosenborg, where they had the opportunity to extend their gap at the top to eight points.
Third placed Viking travelled to fifth place Aalesund, eager to stake their place as a contender and cement their role as the third best team in the country. Brann, in fourth place before the weekend, also had something to prove against Haugesund, coming of a first part of the season where they had a perfect home record while simultaneously not getting a single point away.
Again, Tippeligaen did what it does best; provide more questions than answers. All the lower place teams won their games, loosening any sort of grip all of the teams might have had on their league position.
In Trondheim, leaders Strømsgodset seemed slightly sluggish after the break, their usual excellent passing game not as finely tuned as usual. Rosenborg seemed a lot more alert - aware that if they were to catch a Strømsgodset team that is notorious dominant at home, facing them at Lerkendal after a lull in the season was the perfect opportunity.
The home side was indeed the superior team throughout most of the games as well, getting the only goal of the game just before half-time.
Jonas Svensson slide elegantly past two defenders before treading a lovely ball through to Mike Jensen who finished clinically in the far corner, Adam Larsen Kwarasey in the visitor's goal failing to make the angle small enough in time.
The win brought Rosenborg within two points of Strømsgodset, the latter now with none of the cushion they would have had in abundance with a win.
It was also Tarik Enyounoussi's last game for Rosenborg, the Norwegian international joining Hoffenheim two years after he returned from an unsuccessful spell in Herenveen.
Rosenborg is replacing Elyounoussi with another striker from the Norwegian national team squad, Alexander Søderlund from Haugesund, in a transfer not as obvious as it might seem with Per Joar Hansen getting a more traditional number nine in for the more technical and creative Elyounoussi, who would normally play in a deeper, inverted winger role.
In addition, there are questions of whether Søderlund have the quality to improve of Rosenborg's first eleven. While he has 24 Tippeligaen goals in 70 appearances for Haugesund he is untried in Europe and is still to get a goal in 13 games for Norway, although most of them have come off the bench.
He will be eligible for Rosenborg when they take on Crusaders in the first qualifying round in the Europa League next month, which means he and the rest of the Rosenborg squad is likely to grace McDiarmid Park in the following round after they got drawn against St. Johnstone.
Søderlund was not on the score-sheet in his last game for Haugesund against Brann, but the home team was victories nevertheless, condemning Brann to their sixth away loss of the season, preserving the visitors 0% record to go with their 100% record at home.
The games in Haugesund and Aalesund did both followed a very similar path, the home teams getting a goal in each half to go 2-0 up, before the visitors belatedly pulled one back in injury time.
It was a stark reminder to Viking that they are not quite ready to challenge at the very top of the table, Aalesund looking very comfortable throughout the game, the win meaning they have now leapfrogged the visitors to go third on goal difference.
There is an interesting juxtaposition in play between these four teams; Aalesund and Haugesund do not have the history and resources of their bigger, more famous west-coast neighbours but they are two clubs who have an abundance of passion and fanaticism behind them from the local community.
They are truly becoming genuine football towns, now threatening to eclipse Viking and Brann when it comes to the intensity of their support, Viking especially having to confront accusations of large parts of their supporting base becoming overly blasé.
That the enthusiasm in Haugesund and Aalesund is being rewarded with good results is heart-warming in, their teams very much in contention for European places.
Haugesund is still in sixth, but now with only three points up to third place. It's even tighter behind them with only nine points down to Molde, who in 15th place still occupy one of the relegation spots.
The twelve games before the summer break were undoubtedly Ole Gunnar Solskjær's toughest period so far in his short managerial career, having seen his team recording the worst ever start to a title-defending season.
They started what Solskjær hope will be a slow climb back up the table away to the other big disappointment this year, Kjetil Rekdal's Vålerenga.
In a game where all six of the goals lead to a change in who were leading the game, it also neatly encapsulated the issues that have cause both teams to linger towards the bottom the table - inaccurate defending and the inability to control and clinically see out matches.
19-year-old Brazilian Agnaldo secured Molde a deserved point in injury time with a wonderful finish from the edge of the area, at least ensuring that they didn't have a losing start to the second part of the season.
Then again, away games aren't Modle's biggest problem this season; they've only lost twice on their seven travels so far while they have lost four of their six home games. With Champions League qualification coming up, they will need to find consistent form in Molde at least, newly promoted Sarpsborg 08 the first to visit them this weekend.
Results round 13 Vålerenga 3-3 Molde, Sarpsborg 08 2-1 Start, Rosenborg 1-0 Strømsgodset, Tromsø 2-0 Lillestrøm, Sandnes Ulf 1-3 Sogndal, Aalesund 2-1 Viking, Hønefoss 1-1 Odd, Haugesund 2-1 Brann.
Christian Wulff is a Norgwegian football expert and writes the blog A Hell of a Beating. You can follow him on Twitter @aHellofaBeating.