Did Martin Demichelis foul Barcelona's Lionel Messi outside the box?
The Manchester City defender received a red card for bringing down the attacker.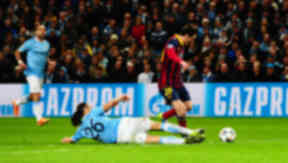 It was the big moment of the first leg between Manchester City and Barcelona and sparked a furious reaction from City boss Manuel Pellegrini.
With the game evenly poised at 0-0, Andres Iniesta played in Lionel Messi and the forward was brought down by Martin Demichelis.
Swedish referee Jonas Eriksson ruled the defender had denied a clear goal scoring opportunity and awarded a penalty to Barcelona.
Pellegrini argued the original foul had taken place outside the penalty area.
He told reporters: "The referee decided the game.
"Before the penalty, it was a foul on Navas when he was three metres from the play so he could see it. From the beginning I felt the referee was not impartial to both teams. So he decided the game.
"It was not a penalty, it was outside the box. The important mistake is the foul against Navas. The second mistake was the penalty."
Watch the incident and lets us know if you think the referee made the right decision @STVSport