Aberdeen chief believes no SPL team has made up their mind on newco vote
Stewart Milne wants to know all implications before coming to a final decision.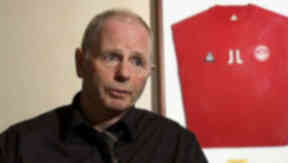 Aberdeen chairman Stewart Milne believes no club has made up their minds on whether to vote a newco club into the SPL.
Sevco 5088, headed by Charles Green and which has bought the assets of the soon-to-be liquidated Rangers FC, has applied to join the SPL and a vote will take place on July 4 to decide its fate.
With just two weeks until the decision has to be made, Milne claims that the clubs do not have all the facts to hand and cannot make up their minds until all the implications are considered.
Milne said: "I'd like to think at this point in time nobody has made up their minds. There's a lot of work to be done in the next two weeks to fully understand the implications.
"The reality is that there's implications whichever way the decision goes. I think it's important that everyone keeps an open mind.
"My personal position and that of the club is that sporting integrity is going to be very much at the forefront of the thinking and we have to factor that in the final decision that we make."
The 12 SPL members, including the doomed current Rangers set-up which remains in administration ahead of being wound up, have come under pressure from supporters not allow a new Rangers straight in at the top.
Clubs fear a downturn in income if there is no 'Old Firm' to boost crowds and attract interest from television audiences. The 'sporting integrity' argument has been used to suggest that no newco could enter the top flight, but Milne said it was wrong to assume he would vote against the newco on the basis of that.
Miolne added: "I think it would be wrong to draw that conclusion. It will be one of the major factors that we'll all have to consider."