Darren Mackie still on the look out for a team as clubs tighten finances
The former Aberdeen striker is frustrated as uncertainty causes slow transfer market.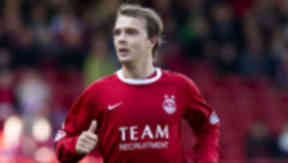 Darren Mackie has admitted his frustration at being left in limbo as he seeks a new club this summer.
The former Aberdeen striker left the Dons in May after 14 years at Pittodrie but has found the financial uncertainty enveloping the game has left him kicking his heels without a deal to play in the upcoming campaign.
The 30-year-old, who hit 58 goals in his time in red, became a father again weeks after his contract expired and confessed the new arrival has added to his desperation to find a new club.
Mackie, who is still training with his former teammates to keep fit during the summer break, said: "Obviously I'd like to have something sorted out by now but it's not the case so I just need to keep working hard and keep myself fit and hopefully something will happen sooner rather than later.
"It's quite frustrating but I've been kept busy by the new arrival we had at the start of the summer. We have a new mouth to feed at the house and we rely on my income so we'll have to tighten our belts for a wee while.
"The main thing is to try and keep my name out there to get a new club."
A number of professional players are still without clubs during this window with many teams opting to develop youths rather than pay for more experienced heads.
The bleak picture for players like Mackie means that he may have to explore options including moving his family abroad, but he insists he is keeping an open mind while the search continues.
Mackie said: "The market's pretty flat, I'm in contact with my agent and he's throwing my name out here, there and everywhere but clubs need to see what the situation is with themselves before they make any big signings.
"The market has been getting worse every summer, there's a lot more players being left by the wayside.
"I've spoken to my wife and we've taken the decision that if we need to move abroad to stay in football then that's something we'll look at."