The real state of the Scottish game: How our top flight compares to Europe
A detailed study of data from over 700 top flight clubs shows our nation's standing amongst other UEFA nations.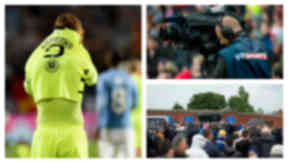 The standing of Scottish football compared to other European nations has long been debated.
Now a UEFA report has shone some light on how our game stacks up in terms of its competitiveness, its finances, how much it charges spectators and how lucrative its broadcasting deal is compared to others.
The data, gathered and audited by UEFA from clubs in their Financial Fair Play submissions for the 2014 financial year, gives the most in-depth analysis available on the various subject matters, with information provided by over 700 top-tier sides in Europe.
We've pulled together all the data relevant to Scottish Premiership clubs, with analysis and responses from the league's chief executive Neil Doncaster.
1) Domestic competition formats and structures
"29% of European leagues have fewer than 12 teams in their top flight. 26% have 12. 45% have more than 12"
There are 42 UEFA nations with winter championships and 11 with summer championships
Scotland plays the joint second highest number of games to determine the title (38). The average number played across Europe is 32.5
Scotland had the joint second highest points gap between first and second last season with 17 points
Cup replays are now only used in the Scottish, English and Irish FA cups
There are 40 "traditional leagues", representing 76% of Europe's top-tier championships
Of the traditional leagues, more than half (21) see each team play each other twice across the course of the season
Nine have three rounds of games, while 10 have four rounds
24%, or 13, of Europe's top-tier leagues use a split system during the season
All bar one of the leagues which use a split system have the possibility of teams facing each other four times in a season
In summary: Some of the issues covered here are amongst the most frequently discussed in the Scottish game. The UEFA data shows Scotland would be going against the trend, for example, if it were to implement a summer season.
There are, on average, more games played in a season than elsewhere in the continent. And there are many countries who, like here, have leagues which see teams face each other four times per campaign.
The general anti-competitiveness of the Scottish Premiership is also highlighted with the points gap last season between Celtic and Aberdeen being amongst the highest of any of the 53 nations which operate a domestic league.
2) Domestic competition results and trends
"The decline in Scottish clubs' performance in UEFA competitions is evident, with their ranking dropping from 11th to 23rd."
The drop in Scotland's coefficient over last decade is the second worst of all UEFA nations (12 places). Only Latvia, who have dropped 14, fared worse
In comparison of coefficient over last five years and average spend of four largest clubs in Scotland in the period, Scotland deemed to be severe underachievers
Neil Doncaster: "If we are to reverse the trend, then clearly it is important that we have a number of clubs qualifying for the group stages of European competitions each season."
In summary: The argument over the reasons for Scotland's declining coefficient is heard every year after our clubs are dumped out of the UEFA Europa League in the qualifying rounds. But the alarming trend over the past decade further highlights just how bad things have got.
Scotland's performance, compared to the money on offer to our clubs on average, is shown to be of an exceptionally poorer standard than those with fewer resources.
3) General revenue trends and comparisons
"Revenues of Scottish clubs have fallen, on average, by 25% over the last five years
12 of Europe's top 15 leagues have seen revenue growth. Portugal (-€6m, £4.35m) and Denmark (-€4m, £2.9m) haven't, Scotland see massive €50m (£36.3m)* decrease
€m per club increase is down €4.2m (£3.1m)
The aggregate club revenue for top flight clubs in Scotland in 2014 was €147m (£106.7m)
The average club revenue was €12.3m (£8.9m)
Scotland's average club revenue is strong - the 13th best in Europe
In summary: It will come as no surprise that revenues of Premiership clubs on the whole have fallen over the last five years, particularly with Rangers' exit from the competition. Teams have however, as analysis later on will demonstrate, cut their cost base accordingly across the board. Despite the fall, club revenues on average in Scotland remain strong compared to other European nations of similar stature.
4) Detailed revenue trends and comparisons
The European average breakdown is 34% domestic broadcasting, 8% UEFA prize money, 25% sponsorship, 16% gate receipts, 8% commercial and 9% other
Scotland's mix is 13% domestic broadcasting, 15% UEFA prize money, 34% gate receipts, 32% sponsorship and commercial, and 6% other
"Scotland's average club revenue from broadcast deals is €1.6m (£1.2m), the 12th best in Europe"
Their aggregate broadcast revenue is €19m (£13.8m), the 14th best in the continent
In terms of the percentage of total revenue to Scottish clubs, broadcast money accounts for 13%, the 13th best of the top 15 nations
Domestic broadcast revenue per capita puts Scotland in a strong position. The nation is ranked as having a revenue of €2.50 to €5 per head of population from TV deals (£1.81 - £3.63)
In comparative terms, 10 nations take in more per capita (England takes in €35, or £25.39 per head). Four other nations take the same as Scotland, while 38 take less, with 28 nations only having a domestic broadcast revenue of €0.25 (18p) per head
Neil Doncaster: "Any comparison of broadcast deals to those in England, Germany, Spain, Italy or France is an unfair and unhelpful one - those countries have huge populations and the world's very best players.
"But when compared to other leagues around Europe, Scotland performs well. The passion, drama and excitement for which Scottish football has long been renowned around the world should continue to support interest in, and the value of, our broadcast rights."
In summary: Scotland's television deal is the source of intense criticism and is often compared to the amounts taken by other European nations of comparable populations. But the figures show that even some sizable nations struggle to attract lucrative broadcast contracts.
Nevertheless, there are clear comparisons which still suggest the SPFL may be being short changed. Clubs in Denmark, for example, receive an aggregate amount €12m (£8.7m) higher.
What is interesting is comparing the broadcast deals of nations where they have strong competition. Norway, where the English Premier League has made significant inroads, is worth €3m (£2.2m) more. And Austria, where the German Bundesliga enjoys such popularity, have a deal worth €5m (£3.6m) less than Scotland.
GATE RECEIPTS
"The total gate receipts per league attendee in 2014 is the joint fifth highest in Europe. Scotland takes €22 (£15.96) in gate receipts per league attendee"

"Scotland is one of 12 nations which has seen a 10 to 20% dip in the average match attendance trend from 2013/14 to 2014/15. Four nations report a dip of more than 20%, with 16 nations seeing a rise"
Scotland takes the ninth highest average gate receipt revenue in Europe with €4.2m (£3.1m) per year. This is higher than Turkey, Austria, Portugal, Sweden, Norway and Russia. England takes €34.3m (£24.9m) a year
Scotland takes the tenth highest aggregate gate receipt revenue in Europe with €51m (£37m). This is higher than Austria, Portugal, Sweden, Norway and Russia. England takes €685m (£496.9m) a year
The total gate receipts per league attendee in 2014 is the joint fifth highest in Europe. Scotland takes €22 (£15.96) in gate receipts per league attendee
Compared to Scotland, Italy and Austria take the same amount per league attendee (€22, £15.96). France and Belgium take €20 (£14.51), with England (€49, £35.54), Spain, Switzerland (€38, £27.57) and Germany (€36, £26.12)
46 UEFA nations take less in gate receipts per league attendee than Scotland
Scotland generated €51m (£37m) in gate receipts in the Premiership in 2014
Per team, that equated to an average of €4m (£2.9m) and, per match, €200,000 (£150,000)
As a "per match" comparison, Belgium, Holland, Turkey also take €200,000 (£150,000). Switzerland, France and North America's Major League Soccer take €300,000 (£220,000). England takes €1.4m (£1m)
Celtic rank as the 20th best club in Europe in terms of gate receipts with €27m (£19.6m) taken in the 2014 financial year. They did, however, see a 20% dip year on year
Gate receipts count for 35% of Celtic's total revenue. Per match, it is estimated they raise €1m (£730,000) in revenue from gate receipts
Neil Doncaster: "Scottish clubs invest a great deal of money in ensuring that the in-stadium experience is safe, enjoyable and suitable for a family audience. This inevitably increases costs, when compared to some other European nations.
"Our clubs are also continually using a number of different methods and introducing offers to help lower the costs of attending games and strike the best possible balance.
"The most recent research shows ticket prices either being frozen or falling and attendances on the increase so things are currently moving in the right direction.
"Scottish football's attendances are holding up well. Numbers are up this season and are a reflection of the unrivaled passion for the game in this country.
"This gives us confidence for the future of the game in Scotland, as this passion ultimately drives most of the constituent parts of the revenue mix."
COMMERCIAL REVENUES
Scotland does not feature in the top 15 nations in terms of sponsorship and commercial revenue
Scottish Premiership clubs earned an aggregate €47m (£34m) of these revenues, an average of €3.92m (£2.83m) per club
Nations of similar-sized populations perform better
Norway earned an aggregate €80m (£57.8m) in 2014, an average of €5m (£3.6m) per club
Denmark earned an aggregate €67m (£48.4m) in 2014, an average of €5.6m (£4.1m) per club
In summary: Scotland still punches well above its weight in terms of how many people attend games compared to other nations in Europe, and in turn they receive cash from gate receipts which completely buck the trend in terms of population. In short, football remains popular, people are still coming through the gates and they are paying prices which are comfortably in an upper bracket compared to the rest of the continent.
What is surprising therefore is that Scotland doesn't register on the list of nations whose clubs enjoy strong sponsorship and commercial revenue. There are clearly supporters who are willing to part with their cash, so why isn't this translating into businesses looking to capture their money?
Do Premiership teams know enough about their supporter base to sell sponsorship and commercial deals to interested parties? Or is there simply not enough cash, or interest, from businesses to put their money into Scottish football?
OTHER
Transfer proceeds accounted for 2% of the total revenue of Scottish top flight clubs in 2014
Scotland took an aggregate of €23m (£16.7m) in transfer proceeds in 2014
5) Wage cost trends and comparisons
"In the absence of Rangers FC, the largest club (Celtic) has more than five times the wages of the second club (Aberdeen). Wage levels are relatively close for clubs 3-12"

"Scotland has the largest wage differential in Europe between the top two clubs"
Wages account for 60.3% of costs across Europe as a whole
Club wages have grown at an annual rate of more than 10% over the last 19 years in Europe
Scotland is ranked as having the 15th highest average club wages in Europe, with €7.2m (£5.2m) spent on average in 2014
The aggregate league wages in Scotland in 2014 were €87m (£63.1m), the same amount as spent in Denmark
Over the last five years, the aggregate club wages in Scotland's top flight dropped by €44m (£31.9m)
This is an exceptional amount not reflected anywhere else in Europe. Denmark, as a comparison, have seen a €7m (£5.1m) drop over the same period, while on a whole wages are on the climb
Aberdeen paid 50% more in wages than the club with the third-highest wage bill in 2014
The difference in wages paid between clubs ranked third to 12th in terms of spending is negligible
Neil Doncaster: "Large wages are no guarantee of success. Aberdeen's performance last season, running Celtic close at the top of the Premiership, demonstrates that healthy competition is alive and well."
In summary: The champions having a wage bill five times greater than the next team in the league isn't a surprise. But it again highlights the total lack of competitiveness in terms of going for the Premiership title.
6) Operating and non-operating cost and transfer activity trends and comparisons
"In 2014, Celtic were ranked as the 17th most profitable club in Europe by net transfer income"
The average club operating costs of a Scottish team is the 14th highest in Europe (€4.6m, £3.3m)
The aggregate operating costs of Premiership teams in 2014 was €56m (£40.6m)
As a percentage of total club revenue, operating costs account for 38% as a whole
That figure is directly comparable to Germany and, on average, is a low percentage
Having paid €11m (£8m) in transfer costs, Celtic banked €21m (£15.2m). Due to rounded figures, this accounted for a net transfer income of €9m (£6.5m)
7) Underlying and bottom-line profitability
"Scotland's average bottom-line net profitability is the second best in Europe (7.9%), bettered only by Spain (9%)"
Of Europe's top 15 leagues, only seven reported aggregate underlying operating profits. Scotland was one of the seven with 3.5%
In terms of net profit, only five of the top 15 leagues reported aggregate profits.
OPERATING PROFITS
In 2014, six of Scotland's Premiership clubs posted an operating profit, and six posted an operating loss
Two clubs had an operating profit margin of between 10% and 20%. Four had an operating profit margin of 0-10%
Two clubs had an operating loss margin of 0-10%
Four Scottish clubs reported an operating loss margin between 10% and 20% in 2014
In Europe's top 15 leagues, including Scotland, 44% generated operating profits in 2014
NET PROFITS
In terms of net bottom-line profits and losses, five Scottish Premiership clubs reported a profit
One club posted a net profit margin of over 20%. Celtic had a net profit margin of 17%, while one other clubs posted a margin of between 10% and 20%. Two reported a net profit margin of 0-10%
Seven Premiership clubs reported a net loss. Four had a net loss margin of 0-10%. Two reported a loss margin of 10-20% and one reported a net loss margin of over 20%
Celtic reported the 18th highest bottom-line profit margin of all European clubs, down one place from 2013. A €13m net profit was posted, giving a margin of 17% in a season without UEFA Champions League participation
Malmo, who eliminated Celtic from the Champions League in 2015, posted a 40% net profit margin in 2014, with net profits €3m higher than their Scottish counterparts. They also participated in the group stage of the competition in that year
Neil Doncaster: "The clubs are to be congratulated on this excellent result. It has been achieved through clubs' hard work to increase revenues, producing and developing talented young players who are sought after and often end up being sold to richer leagues, reduction in debt - which then reduces the cost of servicing that debt; and good control of costs, particularly player wages.
"It is also a reflection on the league's success in growing sponsorship and broadcast revenues, which in turn means higher fees being paid to clubs.
"When I am speaking with other leagues around the world, the SPFL and its clubs are hugely respected. I do think that we are often tougher on ourselves than is fair and that SPFL clubs are amongst some of the very best run clubs in Europe."
8) Balance sheet trends and comparisons
The average squad cost in Scotland in 2014 was €2.8m (£2m), the 15th highest in Europe
That figure is based on the combined transfer costs of players on the club's books at the end of the financial year and are externally audited
The aggregate squad cost in Scotland in 2014 was €35m (£25.4m), €19m (£13.8m) lower than the next-highest nation, Denmark, on the list
9) Global benchmarking of European club football
European football revenues are 80% of the four major US sports combined
Using data from all of Europe's top-tier leagues, match-day revenue equates on average to 16% of total revenue
On average across all of Europe's top tiers, broadcast deals are responsible for 41% of revenue, while sponsorship, commercial and other revenue equates to 44%
Across the four major sports in North America, the split is 30% commercial, 43% broadcasting deals and 27% match-day revenue
Scotland's split is 13% broadcasting, 34% gate receipts, 53% sponsorship, commercial and other revenue
To be more specific, Scotland's split is 13% domestic broadcasting, 15% UEFA prize money, 34% gate receipts, 32% sponsorship and commercial, and 6% other
(* - All financial figures given are in Euro format and converted into pound sterling at an exchange rate of 0.73.)