Statistics are just like mini-skirts, they give you good ideas but hide the most important thing
Opinion: Ebbe Skovdahl was often ridiculed but his line disregarding stats in football still rings true today, says Thomas Watt.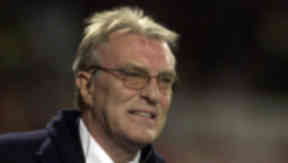 Ebbe Skovdahl once noted that "statistics are just like mini-skirts, they give you good ideas but hide the most important thing". The last few weeks have proved that, in football, rarely has a more truthful word been spoken.
The victory over St Mirren at the weekend meant that Aberdeen ended an 11-game run without a win. The fact that we hadn't had such a run in 80 years led some to suggest that this would be "the worst Aberdeen side ever". Obviously, statistics never lie. They are just very liberal with the truth.
If the current crop were on the verge of becoming one of the worst sides in our history, then Ebbe Skovdahl's side, who won nine home matches in a row, were as good a side as the team from the 1980s. Certainly, the numbers can make for interesting reading, but they must be given context to be illuminating.
A run of 11 games without tasting victory is about as much fun as a Steven Pressley post-match interview but it casts no more light on the story of our season, nor on our squad's ability, than the seven game unbeaten run we "enjoyed" at the start of 2009/10. The only fact these stats reveal is that Aberdeen have been very, very inconsistent this year.
In an age where scrutiny of clubs, managers and players is so fevered, it is little wonder that stats are seen as a way of quantifying opinion. Certain broadcasters love to report that John Terry is the most accurate passer of the ball in the English Premier League, that a targeted manager has spent millions with little return or, perhaps best of all, that a club never loses a game when one particular player scores. Of course, these observations may be technically correct but they are massively misleading.
Defensive-minded players tend to have much higher passing accuracy because they play short, low-risk passes with a great frequency. As a result, they are far more likely to complete nine out of every 10. A creative midfielder will have far less success because they are attempting more difficult distribution. Likewise, managers often earn the reputation as big spenders because only their incomings are scrutinised.
Harry Redknapp is remembered for big spending at Portsmouth, especially now they are so close to the precipice. The players he brought in may have cost over £50 million but Portsmouth recouped over £100 million from their sale. Similarly, there are plenty of reasons to mock Tony Mowbray but his transfer dealings were... no, actually, they were pretty bad. Horrendous even.
Whilst there was inevitable soul searching during our run of games without a win, there was a theory that we weren't winning because we missed Lee Miller. Certainly, his last involvement in a red shirt was the 3-0 win away at Tynecastle, and we were struggling for goals at the time.
However, those who regularly watch Aberdeen games will know that Lee Miller scored only three league goals this season and speculation about his future had clearly made him think of pastures new. He was as prolific in front of goal as Zander Diamond has been, while scoring less than Steven MacLean, Charlie Mulgrew or Chris Maguire.
A good case could be made with statistics for the fact that we have missed Maurice Ross more than Lee Miller. While he was at the club we played 11 games and we only conceded seven goals while he was on the pitch. Spotters' badges go to those who can see the problem with that particular insight.
It is quite easy to bend statistics to your own ends. The current Aberdeen side may have struggled in recent weeks but at no point were they close to being the worst Dons side that we have seen. Football statistics should always be questioned and there should always be some thought as to why a certain stat occurs.
There should always be context to the numbers and there should always be a macro for the micro. In the spirit of this, here are some fascinating statistical insights with which you can amaze your friends, all of which are true.
Kilmarnock have never lost when Gavin Skelton has scored.
Michael Paton has never missed a penalty in normal time for Aberdeen.
Dominic Cervi has yet to concede a goal for Celtic.
You can prove anything with statistics.
This article contains the views and opinions of a genuine Scottish football fan. STV are always on the lookout for supporters from Scottish clubs to have their say. If you'd like to make your point, over and above commenting on this article, get in touch by writing to sport@stv.tv.