Do Aberdeen really only raise their game against Rangers?
The intensity of Aberdeen v Rangers is well-known but is it simply bad blood or are there more sensible reasons? Thomas Watt explains.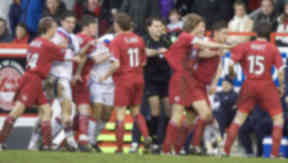 If there were a list of lazy Scottish football clichés, somewhere amongst the annals of journalistic torpor of "Aberdeen should have been relegated in 2000", "the SPL holds the Old Firm back" and "there was a New Firm in the 1980s" you would find the firmly held theory that Aberdeen only raise their game against Rangers.
The theory goes that these matches are so important to our season that we focus all our attentions on beating our deadliest rivals, at the expense of our league form. Previously under-performing players will find a new lease of life, fans will increase the volume levels and the Dons will find new levels of cohesion in these two games.
Let's take the time to kill this myth dead. Whether it is Boca Juniors v River Plate, Kilmarnock v Ayr or Watford v Luton, clashes between fierce rivals have never been won by skill alone. No matter what the respective standing is between rival clubs, when it comes to the grudge match, league tables have never been an issue.
When the next Old Firm derby arrives, how often will the old adage of "form goes out the window" get trotted out? Why is this so descriptive of one particular rivalry and not of another?
Take the recent game between Rangers and Manchester United. There can be no argument that Manchester United have a vastly superior team, infinitely more resources and no small advantage in ability.
Yet Walter Smith's men earned a draw at Old Trafford. Was that Rangers "only raising their game for the Champions League" or was it that the sense of occasion immediately lifts spirits and focuses the mind?
Rangers may not be as prestigious as Fergie's men but they are reigning Scottish champions and have been more often than not in the past two decades. With European jaunts kept to a minimum in the last decade, it's no surprise that fixtures against the title holders have more bite.
Of course, there is the added benefit that the rivalry with Rangers attracts a big crowd. Any professional footballer gets a boost from a partisan crowd and Aberdeen players will be no different. No-one can doubt that a team performs better with 12 players than they do with 11, although back in the days of Mike McCurry, it simply evened the odds.
Our European matches against Lokomotiv Moscow, Copenhagen and Bayern Munich, as well as recent crunch matches with Hearts and Hibs, have shown just how much of a difference a vocal support can be. A huge part of Aberdeen "raising their game", in any match, is down to our own support. Obviously, the same applies to our matches against Celtic but more on this later.
It is probably no small coincidence that our pitiful ticket allocation at Ibrox has coincided with our long wait for a victory in Glasgow. Aberdeen always take thousands of supporters to away matches and often outnumber our hosts. The fact that Rangers limit our numbers to just a few hundred shows that they too are aware of the Red Army's influence.
Call it a premonition but at least one tabloid journalist will this week suggest that the bad blood between fans started in 1988/89. Obviously, there was no sign of animosity when Willie Johnston stamped on John McMaster's neck in 1980..
Incidents on and off the pitch were not uncommon well before this date, and so whenever we are told otherwise, it adds to an already burning resentment. All of this sparks interest in the game, and explains the increased crowds.
The notion that we play better against Rangers than Celtic is equally preposterous. In the last decade we've taken 21 points from Rangers, but managed 16 points against their Old Firm rivals. Considering the fact that Celtic have been marginally the better side in the last decade, that statistic would seem to suggest a similar level of resistance.
Given that, the SPL title is never won in the Old Firm encounters. But in their results against the other clubs, Pittodrie has played its fair share in deciding the destination of Championships to either side of Glasgow.
Perhaps it is an unpopular theory but there would certainly be an argument to suggest that over the years, Rangers have raised their game against us. In the midst of the Paul le Guen experiment, when the boys in blue were being defeated by Dunfermline in the Scottish Cup, and Caley Thistle in the league, they still managed to regain focus for the showdown at Pittodrie.
Or, perhaps this is confirmation after all, that, to use one of the aforementioned clichés, the formbook really does go out the window when these sides meet. We know we need to be at our best to win these games but what better time to show your intentions than against an old foe?
Thomas Watt is STV Sport's fan writer for Aberdeen. STV are always on the lookout for supporters from Scottish clubs to have their say. If you'd like to make your point, over and above commenting on this article, get in touch by writing to sport@stv.tv.