Clubs agree to pursue move to 24-team SPL with three-division split
The Scottish Premier League clubs are to consider plans to invite teams to join an expanded league.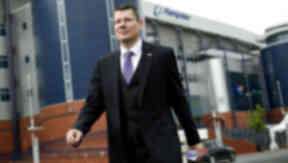 Scottish Premier League clubs have unanimously agreed to pursue an expansion of the top division following a meeting at Hampden on Monday.
STV understands the proposals will lead to the league inviting another 12 clubs into the existing setup.
The move would create two tiers of 12 clubs. The plans, revealed last week, would then see the two leagues split into three divisions of eight after 22 games.
Speaking to STV, the chief executive of the SPL, Neil Doncaster, says the proposals would reduce the number of "meaningless games" in the top flight.
SPL clubs will now meet again on December 3 with an indicative vote on the full plan likely to take place.
Representatives of all top-flight clubs were in attendance to discuss possible league reconstruction following the Scottish Football League's announcement of their proposal for a new format.
The clubs have given full backing to change that would see the SPL expanded to include more teams, though no definitive timescale has been given for expansion.
The move is designed to minimise the financial disparity between the top-flight and the second tier of Scottish football and would have a new financial distribution model for clubs.
The Scottish Football League has already revealed its own plans for reconstruction, which would differ significantly from the SPL's proposals.
SPL chief executive Neil Doncaster has said there is still a good working relationship between the governing bodies but stated the SFL plans were not on the agenda at the meeting of top flight clubs.