SPL clubs give 'unanimous backing' to admitting 30 SFL teams into league
Neil Doncaster says no vote was required for approval to a 12-12-18 setup being given.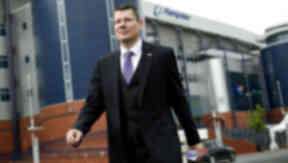 Scottish Premier League clubs have given their unanimous approval to plans for the admission of 30 new teams to the league.
The proposal would see two divisions of 12, which would split into three leagues of eight after two rounds of games.
The teams in each pool would then compete respectively for the championship, a place in SPL1 in the new campaign, and relegation out of the setup.
The third tier would comprise an 18-team division, meaning the SPL's solution will include the invitation of all current SFL clubs, leaving the SPL as the sole operator of a professional football league in Scotland.
After a meeting of clubs on Monday, SPL chief executive Neil Doncaster said he was "delighted" at the backing for the plans, stating no vote was required to approve them.
Despite that, a "special qualified resolution" would be required to formally expand the league and admit new teams.
A 10-2 vote in favour would be needed to add to the current 12 sides.
SFL clubs must give two full seasons worth of notice to quit their league. That rule can be bypassed if 66% of clubs vote to do so at a general meeting.
The SFL have opposing plans, which involve SPL clubs returning to the body it broke away from in 1998 to form the independent top flight.
Under their proposal, the top flight would accommodate 16 teams, with the second tier including ten sides. The bottom tier, as with the SPL idea, would also have 16 clubs.
The SPL, SFL and Scottish FA will meet on Thursday to further discuss reconstruction proposals.