Video: George Peat brings a plastic dinosaur to SFA press conference
The SFA president causes bewilderment by bringing along his "trademark" to a media gathering.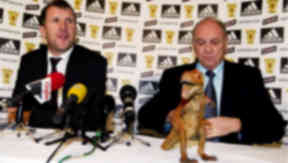 Describing it as his "trademark", SFA president George Peat entered a press conference at Hampden on Wednesday morning confusingly clutching a plastic dinosaur.
The gathering was scheduled for Peat and chief executive Stewart Regan to offer their views on the publication of the second part of Henry McLeish's in-depth study into Scottish football, which recommended a modernisation of the governing body.
When asked why he had brought the toy into the press conference, Peat responded: "I'm trying to get rid of that reputation."