Craig Brown pleased to give Aberdeen fans win in last Pittodrie outing
Aberdeen defeated Hearts 2-0 in Craig Brown's last home game in charge of the Dons before his retirement from football.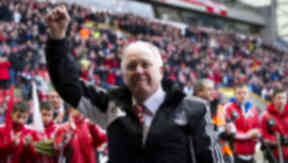 Craig Brown has thanked the Aberdeen support after securing a 2-0 win over Hearts in his last home game in charge of the Pittodrie club before his retirement from football.
Brown will move aside for Derek McInnes, who was among the 10,175 crowd today, after the game at Tannadice next Saturday and Aberdeen gave themselves a chance of starting off the new manager's reign in the top half after moving above Hibernian and Dundee United into seventh place.
Speaking after the win against Hearts Brown said: "I'm not an emotional guy but it was nice. When you walk down there, I have heard it the other way, but nothing bad.
"They always applaud the Aberdeen manager up the track at the start of the game and I always acknowledge it.
"But going back at half-time if you're not winning: 'Get it sorted out Brown'. They tell you.
"But the support to me since I have been here has been fantastic. I'm grateful to the support because it has been consistently supportive, even when you lose a game.
"There were a couple of games when the team was catching it and I was catching it, they were frustrated. But the response has been terrific and today was very pleasant."
McGinn scored 10 minutes into each half, firstly slotting into an empty net after Jonny Hayes had been sent clear on the right, and then curling into the top corner after some good skill in the box.
Brown added: "I'm pleased that the folks went away happy today. We have played better than that this season and we have had I don't know how many 0-0 draws (six), and in many of these games we were far more accomplished than we were today.
"But we got the breaks today and Jamie Langfield made a couple of good saves.
"Niall scored a couple and we had two chalked off for offside which were onside. I have looked at it on the tape.
"I wouldn't like to think that if it came to goal difference, two wrong decisions go against us.
"I don't normally complain but I think it's justifiable to complain when they are wrong, particularly if you win.
"We are pleased there is still an outside chance and if there is still a chance when we go to Tannadice there will be an excellent crowd there."