Survey shows 87% of Scottish football fans want an expanded premier league
The National Football Survey has revealed that majority of supporters favour a 16 team league.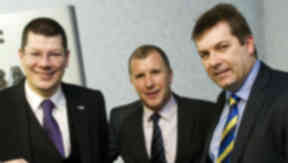 Scottish football fans overwhelming favour bigger leagues, and less tiers to the set-up, a wide-ranging survey has revealed.
The National Football Survey results show that 87% of supporters want to see the premier division expanded.
Fans cited the repetition of playing teams four times as the major factor in wanting change.
Just fewer than 7000 Scottish football fans responded to the survey.
Asked about league reconstruction, 51% of fans wanted a top league of 16. The second most favourable option was a league of 18, which polled 18% of support.
The results showed 15% of fans wanted a league of 14 and 3% thought the league should be bigger than 18 teams.
Two thirds of those polled felt there should be three football leagues in the country – one less than at present.
The survey was commissioned by the Scottish FA in conjunction with the SPL, SFL and Supporters Direct Scotland.
Stewart Regan, the chief executive of the SFA, said the results were ultimately a matter for the league bosses to act upon.
Mr Regan said: "The feedback from supporters is in line with the Scottish FA's views and I am sure the results of the report will be taken on board by the respective bodies."
SPL chief executive Neil Doncaster said the survey was "extremely valuable" but did not specifically address the issue of league size.
David Longmuir of the SFL said: "All three football bodies will take these views seriously and where possible deliver them."
View the full results of the National Football Survey on the Scottish FA website