SPL announce plan for merged league and play-offs for 2013/14 season
A 'package of measures' has been put forward by the league for a '42-club' solution.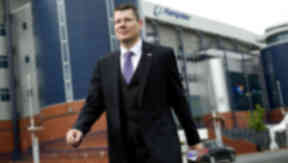 The Scottish Premier League has announced a new plan to push through league reconstruction in time for the 2013/14 season.
All 12 current top flight clubs met at Hampden on Tuesday to find a last minute solution, after proposals for a 12-12-18 structure failed to pass a required 11-1 vote last month.
Under the proposal, a merged league body would be created to accommodate all 42 senior clubs in Scotland.
The current league structure of 12-10-10-10 would be retained but play-offs would be introduced.
The team finishing 11th in the top flight would enter an end-of-season competition against the teams finishing second, third and fourth in the First Division.
An "all-through distribution model" would also be introduced to see "substantial" money diverted to second tier clubs.
First Division sides had threatened to resign over what they perceived as a failure on the part of Scottish Football League chief executive David Longmuir to salvage reconstruction, in the hope of being invited into an expanded SPL.
SPL clubs were expected to meet to discuss that proposal and the possible introduction of play-offs but have now tabled a fresh solution.
A vote will be held by the 12 members later in May. The SFL and its member clubs are yet to publicly comment on the proposal.
In a statement, the SPL said: "At an all-club meeting earlier today at Hampden Park, the 12 Scottish Premier League clubs unanimously agreed on a package of measures that would deliver a merged league in time for season 2013/2014.
"The principles include:
a single merged league of 42 clubs, in line with the stated preference of SFL1 clubs
a 12-10-10-10 divisional structure
an all-through distribution model involving substantial redistribution to the second tier
a 'pyramid' for the entire game
play-offs involving team 11 in the SPL and teams 2, 3 and 4 in the division below
"A formal proposal to deliver the above will be brought back to the SPL clubs for voting this month.
"The SPL looks forward to working with the Scottish FA and Scottish Football League to deliver vibrant change for the game as a whole.
Chairman Ralph Topping commented: "I am pleased that SPL clubs have today agreed on a way forward for the game in this country.
"We have tremendous sympathy with the SFL1 clubs and their plight and with their shared ambition for a 42-club solution.
"Much work needs to be done in a short space of time to achieve our objective of a single merged league this summer. But, where there is a will, there is a way. The time for action is now."