Scottish Football League clubs say yes to league reconstruction
SFL sides voted 23-6 in favour of the reconstruction plans, leading to the creation of the SPFL.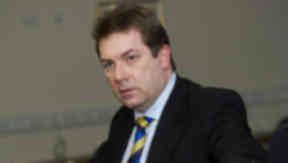 Scottish Football League clubs have voted in favour of league reconstruction, paving the way for the creation of a new Scottish Professional Football League for next season.
The decision to approve reconstruction plans follows the unanimous decision of the Scottish Premier League clubs to give the proposals the go-ahead, meaning the two league bodies will merge to form a new competition, the SPFL, this summer.
At a meeting at Hampden on Wednesday, 23 SFL clubs voted to approve the change, with six voting against.
Twenty-two of the 29 clubs entitled to vote were required to vote in favour for plans to be given the green light.
The decision to back the plans comes just weeks after an indicative vote from SFL clubs failed to get 22 votes, prompting the threat of a breakaway by First Division clubs, who said they would apply to join the SPL.
Talks since then persuaded a change of heart from some clubs, with many chairman stating that a 42-club solution was important to improve the fortunes of the national game.
The new SPFL set-up will retain the four-division 12-10-10-10 structure but will have a new merged governance model.
Play-offs will be introduced between the 11th placed team in the top flight and the second, third and fourth places in the second tier, creating a potential second promotion place in addition to the one-up, one-down automatic promotion.
In 2014/15, a further play-off between the bottom club in the Third Division and the winner of a Highland League v Lowland League play-off.
Reconstruction will also bring a new financial distribution plan that will benefit current First Division clubs in particular.
A meeting of all 42 senior clubs will now be held to formalise the creation of the new SPFL in time for next season.