Half-term stats report: How 'mean' Aberdeen have performed this term
A look at how the season has been, and how it is shaping up, for Derek McInnes' Aberdeen.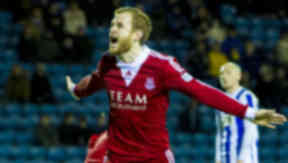 Aberdeen have been in fine form recently, and find themselves in second place in the table as we enter the final third of the season.
Seven wins from eight Premiership games is a run of form that hasn't been matches since the title charge of 1990/91, and the points haul of 44 is the highest total the Dons have achieved in the era of three-points for a win.
Indeed, that figure already exceeds the total that the club finished on in three of the last four seasons.
Average possession is currently the third highest in the division, which has been in large part down to how comfortable the midfield three of Robson, Jack and Flood are on the ball. Indeed, since Barry Robson cemented his place in the side, only St Johnstone have had more possession than Aberdeen in an individual fixture.
Shooting accuracy and, perhaps surprisingly, shot conversion are both in keeping with their position in the division, while the variety of creative options highlighted by the Power Rankings suggests that while they may not have the constant goal threat of some of their rivals, they are less reliant on one particular individual.
Total Goals: 33
As is to be expected, the majority of Aberdeen's goals have come from within the 18-yard box, although they are less dangerous in that area than some in the Scottish Premiership. Six other teams have scored more often in the penalty area than Aberdeen have.
Where Aberdeen have really excelled is in goals from outside the area. No club in the Scottish Premiership have scored more from outside the penalty area than Aberdeen have this season. That has been, in part, down to some precision with dead balls. Only St Johnstone can match Aberdeen's two goals from direct free-kicks, while Barry Robson has also scored this season directly from a corner.
Average possession: 50.59% (3rd overall)
Shooting accuracy: 46.34% (2nd overall)
Shot conversion: 15.50% (2nd overall)
Goalkeepers
Jamie Langfield is the current leader in the division when it comes to save percentage, stopping 77.61% of the shots taken against him. Nicky Weaver has recorded just 55.56%% of the shots taken against him, but as he has only played two games it is not statistically significant.
One statistic that really underlines the solidity of the Aberdeen defence is the saves per game metric. Jamie Langfield makes an average of 2.48 saves per match, while Nicky Weaver made 2.50 in his two games so far this season. These figures are the 14th and 13th lowest in the Scottish Premiership this season. Quite simply, Aberdeen do not concede many chances.
Power Rankings
Who have been the players that have posed the greatest threat to the opposition goal this season, according to our Power Rankings system
One of the main reasons for Aberdeen's relative success so far this season has been the number of creative outlets that they have in their team. While last season's goal-scoring, and indeed much of the creation, fell on the shoulders of Niall McGinn, this year there has been more of an even balance.
While there have been no real standouts against the whole of the league, in terms of either creation or goalscoring, the number of players who have scored relatively well gives an indication of how many threats Aberdeen currently pose. The only slight worry for Aberdeen is that neither of their main strikers have scored especially well in comparison to some of their rivals.
TSR
For an explainer on TSR and PDO, head over here
As noted above, TSR eventually reverts to 0.5 over the course of a season. Teams with especially high TSR are routinely dominating matches or are solid defensively, while teams with low TSR are likely to be on the back foot or wasteful with chances. Here's Aberdeen's average TSR over the course of this season.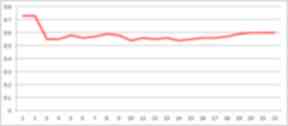 As we can see, Aberdeen's TSR has been creeping upwards towards 0.6, which is both reflective of their current form, and suggestive of the fact that they can't really improve much on a record of 21 points from 24.
The TSR is also reflective of Aberdeen's mean defence. While there are five teams in the division which have taken more shots than Aberdeen, only Celtic have conceded fewer chances. Dundee United and Motherwell's recent runs have been as a result of creating plenty of chances and finishing ruthlessly, Aberdeen have been more measured, defending well and picking off their opponents.
PDO
Over the course of this season, Aberdeen have so far recorded a PDO of 1038.96. Their current form - seven wins in the last eight games - is exceptional, which does suggest that they will suffer a slight drop in form before the end of the season. That is to be expected, given how rare it has been for Aberdeen to go on runs like the one they are on at the moment.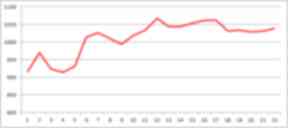 As we can see from the above graphic, Aberdeen didn't pick up as many points in the opening weeks of the season as perhaps their play deserved. The losses to Ross County and Hearts came despite creating more chances than their opponents. Likewise, their current form is slightly above their expected return; they're scoring more goals and conceding less than the number of opportunities created and afforded.
The burning question is if and when this exceptional run of form suffers a slight decline, will it be enough to finish in second place? Here's the same PDO graph, but this time including Motherwell and Dundee United.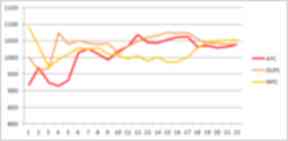 From here we can deduce that while Aberdeen and Motherwell are on runs which are unlikely to be sustainable, Dundee United's run of five matches without a win is also unlikely to continue. Indeed, prior to their current predicament, Jackie McNamara's side had won six in a row, and so the only way their form could possibly go from there is down.