Don't leave early: Most Premiership goals are scored in the last 15 minutes
Scottish top flight games see more goals in dying minutes than in any other time period.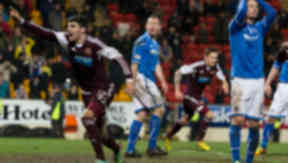 Are you a fan who likes to leave the ground early to beat the rush and make it home before the traffic builds up?
If your team are in this season's Scottish Premiership, statistically you are running the greatest risk of missing a goal if you duck out early.
More goals have been scored in the final 15 minutes of top flight games than in any other 15 minute time period in 2013/14.
Of the 347 goals netted so far this campaign, 23% have come when some fans may already be on their way back to their cars.
In total, 80 goals have been scored in the Scottish Premiership so far this season in the final 15 minutes.
The second most profitable time period is in the middle of the first half, where 65, or 19%, of goals have been scored.
The dying moments
Some teams are more adept at captalising on the late trend than others. Aberdeen, Hearts and Hibernian are equally the late kings, with 33% of their respective goals this season coming in the final 15 minutes. Celtic follow on 31%.
Inverness CT have been proven to be the team most likely to run out of steam up front as games are winding down, with just 10% of their 29 goals coming late on in matches.
If you're looking for an ideal opponent to use your late strengths against, Dundee United statistically will give you the most joy, with 33% of the goals they've conceded this season coming in the last 15 minutes. Next up on 30% are both Aberdeen and Hibernian.
Celtic are vastly superior when it comes to shutting teams out late on, with just 8% of goal scored against them this season being netted in the final time period.
That's a significant difference to last campaign, when Neil Lennon's men conceded 34% in that time, more than in any other time bracket. It was also the level worst in the league, joint with Kilmarnock.
Ross County are also strong on 10%, starting and finishing games with the same percentage of conceded goals.
The tendency to leave it late isn't a new phenomenon in Scotland's top flight.
Of the 623 goals scored last season, 25% scored in the last 15 minutes. That was eight percentage points higher than the next most popular time bracket of 45-60.
Leaving it late is also a trend across a number of European leagues profiled.
More goals have been scored in the last 15 minutes in both England (23%), Spain (21%) and the Netherlands (22%).
In England, Crystal Palace (36%), Swansea City and West Bromwich Albion (33%) are the most likely to score late.
First half versus second half
With the current trend for teams to leave it late in the Scottish Premiership, the statistics also show that, on average, teams are more likely to find scoring form in the second half of games.
Of the 347 goals scored, 57% have been netted in the second half of matches this season.
Hearts are by far the most prolific, with 78% of their Premiership goals coming in the second half. Just four goals have been scored by Gary Locke's men in the first 45 minutes, all four of which have been scored between the 15th and 30th minute.
All bar one club, Inverness CT, follow that trend of tending to score after the restart with 52% of their goals coming in the first half. Motherwell have a 50-50 split between both halves.
Again, this trend reflects what happened last season, with 58% of goals being scored in the second half.
As is the case with late goals, the tendency to score in the second half is also reflected in the three European leagues profiled. England, like Scotland, has a 43-57% split.
Spain has seen 56% of goals scored in the second half, while the Eredivisie has seen 58% of strikes coming in the second period.