The class of '95: The story of the last time Aberdeen were Champions
It has been 19 years since Aberdeen last won a piece of silverware. Thom Watt looks back at the class of 1995.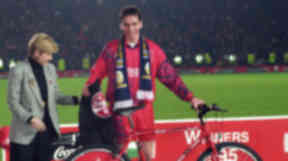 When Aberdeen won the League Cup in 1995, it was unfathomable to believe that the club would go at least another 19 years without further silverware.
By the standards of the day, the five-year gap without securing a domestic trophy was a particularly barren period, given the successes of the previous decade.
Younger readers may find it hard to comprehend a period when all three Scottish trophies were regularly contested; when five or six teams started the season in expectation of success, rather than hope. Even as recently as the mid-90s, that was the case.
It was a particularly transitional period in the Scottish game. Rangers wealth and pull was attracting internationals from all over the world, with Celtic's resurgence under Fergus McCann still a couple of years from its peak. It's easy to forget that there were some good sides, made up of far less stellar squads, who kept the league competitive.
In 1990/91, Aberdeen went into the final day of the season knowing that a point would be enough to secure the title. That season, the gap between first and second was just a single point. Even if that campaign had been played in the era of three-points-for-a-win, it would still have been decided on the final day. In both 1992/93 and 1993/94, Aberdeen pushed Rangers for the title, coming runners-up in both cup competitions in the former year.
Remarkably, in that campaign they ended the season with four players having scored at least 15 goals: Duncan Shearer (28), Mixu Paatelainen (20), Scott Booth (19) and Eoin Jess (16). Even Brian Irvine chipped in with eight. To reiterate, going five years without a trophy at this point, with that squad, was unthinkable.
And then there was the 1994/95 season. Supporters have numerous theories as to how a side which had ended the previous season just three points behind Rangers, could fall apart so completely. Was it the departure of Alex McLeish to Motherwell? Had Willie Miller tried to blood too many youngsters too soon? Were the problems down to injuries?
Miller was dismissed in February 1995, Roy Aitken was appointed. Aberdeen only avoided relegation by winning four of their final five matches at the end of the season, and by seeing off Dunfermline in a two-legged relegation play-off.
Aitken inherited a far better squad than the league position suggested, with a number of talented young players who had been given vast amounts of experience by his predecessor. Few sides in the history of Scottish relegation battles have been able to draw on a quartet of forwards quite like Duncan Shearer, Billy Dodds, Eoin Jess and Scott Booth, who ended their careers with a combined total of 73 caps and 17 goals for Scotland. For comparison, imagine Kris Boyd pairing up with Leigh Griffiths, Kenny Miller and Robert Snodgrass, and still fighting the drop.
Ahead of the 1995/96 season, Aitken added Scotland international Paul Bernard for a cool £1m, which was a statement of intent as much as anything. Bernard's transfer fee now unfairly colours his reputation. He was a fine player, with a knack of scoring goals from midfield. A series of injuries limited his effectiveness.
Amongst that team was one particular youngster who flourished under the new manager. Stephen Glass, a spindly, left-sided creative midfielder/full-back with a Charlatans haircut, had been given his debut as a 17-year-old during the turbulence of 1994/95. The teenager had scored vital goals against Falkirk, and in both legs of the relegation decider with Dunfermline.
1995/96 started with some promise. Four league wins in the opening six fixtures were complimented by opening victories in the League Cup. Back in 1995, the tournament was much more of a sprint, with the final being held in November, and two rounds being completed on either side of the opening Premier Division fixture.
Aberdeen started against St Mirren, and eventually completed a 3-1 win, thanks to goals from Billy Dodds and a Scott Booth double. A fortnight later and they were at Brockville to face Falkirk. John Lambie's side had finished fifth in 1994/95, and were no easy touch.
In an ill-tempered match, Aberdeen took the lead after just six minutes, when John Clark put the ball past his own goalkeeper, but any suggestion of a walkover was put to bed 15 minutes later when Steve Kirk was brought down in the box and Mo Johnston scored an equaliser.
In every tale of cup glory there are moments of good fortune. After half-an-hour Aberdeen were to get the benefit of a contentious refereeing decision, when Tony Parks was adjudged to have handled the ball outside his box and was sent off. Just before half-time, Joe Miller found Scott Booth and Aberdeen were ahead. A rocket from Colin Woodthorpe and a weaving run from Joe Miller added further comprehension to the result.
Next up were Motherwell, arguably the "second team" in the country, and managed by a man the Aberdeen support knew well in Alex McLeish. The Aberdeen legend had taken his new side to second in the 1994/95 Premier Division table, and had got the best out of Tommy Coyne, who remains the only man to top the Premier Division scoring charts with three clubs. Despite conceding an early goal to Dougie Arnott, Billy Dodds and John Inglis put Aberdeen through to the semi-finals after extra time.
In that semi-final they would face hot-favourites Rangers, who had disposed of Celtic in the previous round. The starting XI from that fixture was as prestigious as they come: Goram, Wright, Brown, Moore, McLaren, Petric, Cleland, Gascoigne, McCoist, Salenko and Durie. Oleg Salenko had been the top scorer at the 1994 World Cup, while Gascoigne was finding his feet following his move from Lazio.
In a remarkably open contest, Aberdeen took the lead when Billy Dodds beat Andy Goram to a loose ball and slid it underneath the advancing goalkeeper. He doubled that lead when he was left unmarked at the back post. Eoin Jess did keepie-uppie and step-overs by the touchline, taunting the Rangers defence, Paul Bernard had the game of his career in the centre of midfield. Salenko scored a consolation goal with five minutes remaining, but Aberdeen were through to the final.
That final would be against First Division Dundee. Although Roy Aitken's side were favourites, there were lingering doubts. A season earlier, Aberdeen had been infamously beaten by Stenhousemuir in the Scottish Cup, and while Dundee were underdogs, they counted Neil McCann, Morten Weighorst and Jim Hamilton amongst their number. The Aberdeen team: Michael Watt, Stewart McKimmie, Stephen Glass, Brian Grant, John Inglis, Gary Smith, Joe Miller, Duncan Shearer, Paul Bernard, Billy Dodds and Eoin Jess.
As it happened, Aitken's side disposed of Dundee with relative ease, Stephen Glass torturing the left of Dundee's defence in a man-of-the-match display. It was his delivery into the box in the 33rd minute that presented Billy Dodds with the opening goal of the game. Within 40 seconds of the second half getting underway, Aberdeen were 2-0 up. Glass again the provider, finding Duncan Shearer, who headed into the net. Glass, then just 19, was rewarded for his efforts with a mountain bike courtesy of sponsors, Coca-Cola. This season the bike was raffled for charity.
The win hinted at greater things to come. Dean Windass was signed with the proceeds of the League Cup victory, adding yet further goal threat to an already potent front-line. But the renaissance didn't last. The following season Aberdeen limped to sixth. It was the success, rather than the barren years, which was to prove to be the blip in form.
On Sunday Derek McInnes will lead Aberdeen out in an attempt to end the 19-year wait for a trophy, the longest post-war dry spell in the club's history. In the current climate, chances of silverware are more scarce than they were two decades ago. The current squad look more capable of sustaining their current improvement, but winning the League Cup would bookend one of the most listless periods in the club's history, and hint at the start of something brighter.