Namibian defender disappointed by collapse of Rangers and Aberdeen moves
Miguel Hamutenya says he wanted the chance to prove he could play in the SPL.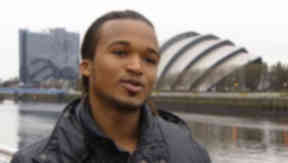 Namibian defender Miguel Hamutenya has spoken of his disappointment following the collapse of his trial with Aberdeen.
Hamutenya was set to head to Pittodrie for a short trial spell but the move was aborted after Craig Brown told the media there was little prospect of the player being offered any deal.
The news was the second disappointment for the 19-year-old after a proposed move to Rangers collapsed last year.
Hamutenya had agreed to sign for the Ibrox club in December but the move was called off, with Rangers believing they would be unable to obtain a work permit.
The player subsequently signed a short-term deal with Maltese side Luxol St Andrews but headed back to Scotland, after it was established he would stand a strong chance of obtaining an endorsement from the Scottish FA.
"According to Rangers, they said that it wouldn't be possible for me to get a work permit because I am a Namibian citizen," the defender said.
"What happened was that [my agent] Jonathan Hope spoke to the Namibian Football Association and found out that it was possible for me to get this work permit, which would have made everything easy.
"I'm obviously very disappointed. I would love to play for a club like that but there's nothing I can do about it really."
"I was then told that I was going to go up for trials with Aberdeen. My agent spoke to Craig Brown and he made it clear that it was unlikely that I would sign for them.
"It's obviously disappointing because I would like to have shown that I could play for a club like Aberdeen and I'm not getting that opportunity after all."
Aberdeen manager Brown has suggested that he had spoken to contacts at Rangers before forming an opinion on the likely success of any trial. Hamutenya said that he was unhappy with the idea that anyone at Rangers had given a poor report on him after having been keen to sign him initially.
"I am very disappointed that there was some sort of side talk from Rangers to Aberdeen telling them that I shouldn't get a contract," he said.
"I've learned from this. Learned who to speak to and who to trust. It's just the beginning for me."
READ MORE