Airdrie United to abstain from Rangers vote over conflict of interest
Jim Ballantyne removes Lanarkshire club from voting as Airdrie could benefit from Rangers demotion.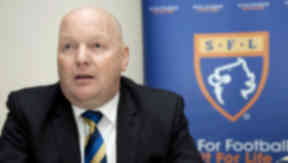 Airdrie United will abstain from any vote on the future of a Rangers newco in the Scottish Football League, according to their chairman Jim Ballantyne.
The 30 SFL member clubs come together at Hampden on Tuesday to discuss the options in front of them with a newly formed company playing as Rangers set to apply to the league.
The old Rangers is to be liquidated and a new company, led by businessman Charles Green, wants to take up the Glasgow club's legacy. However the SPL is set to expel Rangers' membership in a vote held on Wednesday.
It is believed that Rangers would either start in the bottom division or be parachuted into Division One in a move that has not yet been clarified.
Airdrie could benefit from a situation that places the newco Rangers in Division Three, as the runners-up of the SFL play-offs would be first in line to be promoted to make up the numbers in each league.
Ballantyne, who is also the president of the SFL and a board member of the Scottish FA, feels it would be a conflict of interest to vote either way on the Rangers question.
He said: "We are going to abstain from voting because Airdrie could benefit from a particular decision."
Airdrie have been in the same situation twice before. In 2007/08 they were promoted as play-off runners-up when Gretna were demoted to Division Three, then again in 2008/09, they lost the play-off final but stayed in Division One after Livingston were voted down to the bottom rung.
On both occasions Ballantyne abstained from voting on behalf of the club.
No formal vote will be held on Tuesday as the SFL seeks to gauge opinion on Rangers' entry before a final decision is made.
Ballantyne said: "It is not a formal vote, we are just looking for a steer from the clubs.
"I don't know what's going to happen. We are going to completely run through the document sent to all SFL clubs last week and asses all the various options available."