David Longmuir: 'League reconstruction may not be in place for next season'
The Scottish Football League chief executive has defended his proposal for Celtic and Rangers colt teams.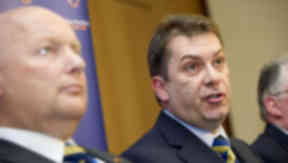 David Longmuir has conceded league reconstruction might not be pushed through in time for next season.
The Scottish Football League chief executive says it is important the country's 42 senior clubs "get this right", as talks continue over changing the format of the league.
SPL and SFL clubs are moving towards an April vote on amalgamating and forming a 12-12-18 league structure, with a draft rulebook sent to all teams this week.
"It may well be the case that league reconstruction won't happen before next season," Longmuir told STV. "But it is clear we have to get this right.
"Everyone has their own agenda. I am looking at this objectively and now is the time to put ideas forward."
On Tuesday, Longmuir sent a proposal to SFL sides outlining the case for an alternative 12-12-10-10 setup, including the introduction of Celtic and Rangers "colt" teams into the bottom tier.
That plan has been met with criticism from some chairmen, including Raith Rovers' Turnbull Hutton, who described the idea as "pick and mix".
Longmuir added: "My view is an objective one and the Colts team idea was laid out in the McLeish Review.
"All I am trying to do here is stimulate debate. We are going through a huge round of deliberation. All I am doing is putting another option forward.
"We have to be very clear on what's right for the SFL and also for the whole of the Scottish game.
"I have to look at how we bring the fans back. With that, I am looking at all aspects of improving our game."
The SFL are yet to decide when their final vote on league reconstruction will take place, although STV understands an April date is being considered.
The Scottish Premier League have scheduled April 15 for their final vote.