Paul Hartley resigns as Alloa manager following 5-1 defeat to Dumbarton
Boss quits Recreation Park after poor runs of form from the Wasps.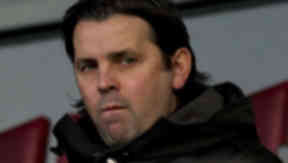 Paul Hartley has resigned as Alloa Athletic manager following a poor run of form that culminated in a 5-1 home thrashing to Dumbarton.
The Wasps have suffered four defeats and one draw in their last five games and the results were enough to tip Hartley into leaving.
The 37-year-old former Scotland midfielder, who was in his first managerial position, said the team's downturn showed him it was time to move on.
Speaking to the Alloa Advertiser, Hartley said: "The decision is nothing to do with getting beat 5-1 because I have had bad results in my two-and-a-half-years here.
"I just felt that over the past few weeks that my time at the club was up and our journey together has come to a natural end.
"I think it is time for someone else to come in and regenerate the players again.
"I have had a great two-and-a-half years here but it wasn't a split second decision, it is something I have been mulling over for the past few weeks and I feel it is the right thing to do."
Hartley won 56 games in his time in charge at Alloa, losing 30 and drawing 23 in a spell where the club was promoted in back-to-back seasons.
Assistant Paddy Connelly takes charge as the Wasps go in search of a replacement for the former Hearts, Celtic and Aberdeen player.