Harry Cairney has no regrets as he steps down as Annan Athletic boss
The Third Division side are on the hunt for a new manager.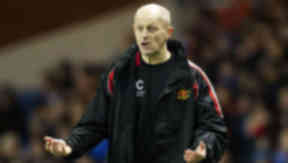 Harry Cairney says he has no regrets after resigning as manager of Third Division side Annan Athletic.
The 51-year-old was in his second spell with the club and had been in charge of the Galabank side since 2006.
Cairney enjoyed a long playing career with Stenhousemuir and Brechin City.
He first joined Annan in 2003 before a short stint with Arbroath, returning to see The Galabankies join the Scottish Football League.
He helped the club reach the promotion play-offs for a place in the Second Division in 2010/11.
In a statement on Annan's official website, he said: "It is with much sadness but with no regrets that I have decided to resign from my post as Manager of Annan Athletic Football Club.
"In recent times, and I don't just mean the last month, I have found it very difficult to manage the time I spend with my family, my job and carrying out my duties as Annan Athletic manager.
"As a result I find it very difficult to "switch off" and relax and this has had a negative effect on my general health and well being. The recent run of bad results has not made this any easier and I find myself worrying about football matters when I should be focussing on other areas of my life."
He added: "In essence, I need to reduce my responsibilities and look after myself better than I am at present. The only way I can do this is to resign from my post at the club.
"I say above that I have no regrets and this is not a flippant remark. I feel that I have worked tirelessly to help improve the playing side of the club since I rejoined six and a half years ago and there have been many great memories over the years."
Euan Brydson will take the team in this weekend's match at East Stirlingshire. Annan are currently eighth in the table with 16 points from 15 matches.