Ally MacLeod among new additions to Scottish Football Hall of Fame
George Graham, Maurice Malpas, Bobby Brown and Professor Stewart Hillis OBE also recognised in award dinner at Hampden Park.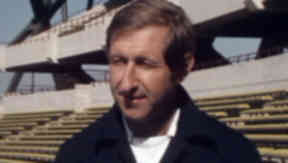 Former Ayr United and Scotland manager Ally MacLeod is among the latest names to be inducted into the Scottish Football Hall of Fame.
Former Arsenal manager George Graham, Dundee United legend Maurice Malpas, ex-Rangers goalkeeper Bobby Brown, and pioneering sports doctor Professor Stewart Hillis OBE were also honoured at an award ceremony at Hampden Park on Sunday night.
MacLeod's inclusion comes after First Minister Nicola Sturgeon backed a campaign by his family to have his achievements officially recognised.
They believed that he had been snubbed by judging panels in the past because of his infamous failure to lead Scotland beyond the group stages at the 1978 World Cup finals in Argentina.
The then-Scotland manager, who died in 2004 aged 72, famously claimed that Scotland could win the tournament. It ended in ignominy after an embarrassing defeat to Peru and a draw with rank-outsiders Iran saw Scotland eliminated in the first round.
However, the tournament gave Scotland one of its greatest ever goals - Archie Gemmill's famous strike against the Netherlands in the memorable 3-2 victory in Mendoza - while the SFA's annual report in 1979 credited MacLeod with "kindling an enthusiasm for the Scottish team that far exceeded anything which had gone before".
MacLeod's management career also included a League Cup trophy with Aberdeen and promotion to Scotland's top flight with Ayr United.
Speaking in July, Nicola Sturgeon, an Ayr United supporter, said: "We were all on the march with Ally's army.
"Then, it wasn't to be, but you know, I come from a family of Ayr United supporters and, for people like my dad, Ally is an absolute hero.
"I think there's a strong case for recognising Ally MacLeod in the Hall of Fame and giving him the regard that I think many people think he's due."
George Graham won 12 caps for Scotland and made 455 appearances as a player in England for clubs including Chelsea, Arsenal and Manchester United, before successful spells as manager of Millwall, Arsenal and Tottenham Hotspur.
Maurice Malpas played 830 times for Dundee United over a 21-year period, winning the Premier Division title in 1983 and making 55 appearances for Scotland in the process.
Former Queen's Park and Rangers goalkeeper Bobby Brown won five League titles and four Scottish Cups in his time as a player, before being named as Scotland's first ever full time manager in 1967. He led the team to a famous 3-2 win over world champions England at Wembley in his first competitive match in charge.
Professor Stewart Hillis OBE was one of the world's leading lights in Sports Medicine and was the Scotland team doctor for 228 matches. He convinced the Scottish FA of the need to set up a Sports Medicine Centre in the refurbished Hampden Park - the first of its kind in the national stadium - and in 1986 he became a member of UEFA's Medical Committee, later holding the post of Vice-Chairman.
Former Scotland manager Craig Brown, who was the last manager to lead the national team to a major tournament in 1998, received a special tribute at the dinner.
The Hall of Fame, which is situated in the Scottish Football Museum at Hampden Park in Glasgow, honours individuals who have made a significant contribution to Scottish Football.
Previous inductees include Sir Alex Ferguson, Bill Shankly, Matt Busby, Graeme Souness and Jock Stein.