Nadir Ciftci aims to move on from six-game ban for biting Jim McAlister
New Celtic striker will miss August's league matches for bite on Jim McAlister in Dundee derby.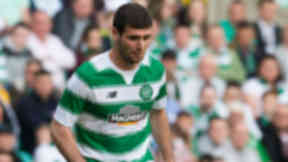 Nadir Ciftci says he wants to put his bite on Dundee's Jim McAlister behind him after being hit with a six-game suspension by the Scottish FA.
A judicial panel found the striker guilty of excessive misconduct during last season's Dundee derby on May 24.
The former Dundee United player, who signed for Celtic this summer, will also be banned for another two games if he is found guilty of excessive misconduct at any time this season.
In a statement issued to Press Association, Ciftci said: "Naturally I am very disappointed with the outcome of today's hearing, however all I want to do now is to put this behind me, move on and focus on my career at my new club."
Ciftci's ban means he will not play domestic football until September but will still be eligible for European fixtures. The forward could make his league debut for Ronny Deila's team in the September 12 clash with Aberdeen at Pittodrie.
Celtic assistant boss John Collins believes Ciftci's domestic ban could help his side's European ambitions.
He said: "Obviously he won't be available for early league games but he will be fresh for European games so for every negative there is a positive.
"It is disappointing for Nadir and ourselves but the decision is made and we just have to move on, we will wait on him coming back.
"It happened with his previous club and we knew that the hearing was yesterday.
"We had to wait on the result, the decision was made and we just have to move on and we all learn from our mistakes and hopefully it won't happen again.
"We want our players to be competitive but within the rules of the game,
"He will be focused and looking forward to tomorrow's game, it is in the past, he will take his punishment and learn from it and look forward to playing well in a Celtic jersey."
McAlister had accused Ciftci of the bite after the two clashed at Tannadice on the final day of 2014/15 league fixtures but referee Bobby Madden took no action.
Photographs of the alleged incident, and a wound claimed to be McAlister's, circulated on social media in the hours following the match.
"The club has interviewed Nadir today as the accusation levelled against him is very serious and Dundee United would not condone such behaviour," a United spokesperson said in a statement on the club website on May 25.
"The player is both surprised and upset by the accusation and, on discussing the matter in detail, it is clear to us that the player has not been involved in any such incident.
"In fact we commend Nadir for his tolerance on the field given some quite severe physical and totally unacceptable verbal provocation."
The incident was investigated by the Scottish FA compliance officer Tony McGlennan and a charge of excessive misconduct was made.
Ciftci was charged under Disciplinary Rule 202 with the Notice of Complaint stating: "In that the above match you committed an act of Excessive Misconduct by biting Jim McAlister of Dundee FC upon his leg to his injury.
"That this act constituted an A2 Sending-Off Offence of Violent Conduct as provided for in Section 3 of Annex C to the Judicial Panel Protocol, and was aggravated by the degree of physical violence used."