Celtic boss Deila won't discuss move for Hibernian's Scott Allan
Rangers have already been unsuccessful in a bid to land the highly rated midfielder.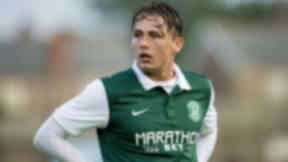 Ronny Deila has refused to play down speculation linking Celtic with a move for Hibernian midfielder Scott Allan.
The 23-year old has been the centre of a transfer tug-of-war this summer after multiple bids were turned down from Rangers.
Reports now say the Scottish champions are ready to make their move for him.
Manager Ronny Deila was asked about a bid at his pre-match media conference on Thursday.
"I can't comment on anything until something is done," he said. "It's too early to say something about.
"I have commented on names before and that wasn't very good. He is not our player, so please try to ask about our players."
Hibernian boss Alan Stubbs also fielded questions about the Easter Road star player.
In response to questions from STV over whether Celtic had made a bid, Stubbs said: "No, we are looking to put a squad of players on the pitch and be as competitive as possible.
"Obviously there's been a lot of speculation with Scott over the last few weeks and as you seen from last Saturday he's not letting it affect him on the pitch.
"We would have a discussion as a football club and that's the same with any player.
"We have chose not to do business with Rangers, that's been clear from the outset and we've been open and honest about that.
"From that point of view nothing has changed, but I can't comment on every time there's speculation out there because I don't think it's the right thing to do.
"At the moment it's just speculation. The way social media is now things can grow arms and legs, we see lots of speculation that goes on in the football world, it's not necessarily always true."
Deila says the club are still scouting possible signings before the transfer window closes on September 1 but deals could depend on their European success.
Two matches stand between Celtic and the Champions League group stages, and the manager admits qualification would make it a lot easier to sign players.
"It's easier to get good players and it's better economy," he said. "You also need to make yourself ready to play in the Champions League.
"I haven't talked with individuals, we are not so far. That's the last thing to happen when you are signing a player, but everyone can understand it's even more interesting to play for Celtic if we get into the Champions League.
"We know where we strengthen and what we want to do with the squad."
Speaking at the launch of a book looking back at his first season in charge, Deila revealed his 12 months in Glasgow had made him even more convinced about his coaching principles.