Scott Allan joins Celtic: A timeline of the summer transfer saga
A look at how months of speculation ended with the midfielder joining the Scottish champions.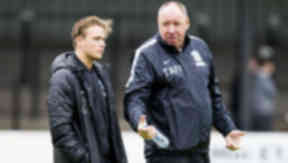 It's been the Scottish transfer saga of the summer but after months of speculation, Scott Allan has departed Hibernian for Glasgow.
The midfielder has been the subject of hundreds of articles and back page stories but the 23-year-old has finally found a new home.
After several rejected bids from Rangers, a verbal and then formal transfer request, as well as interest from English clubs, the midfielder has sealed a move to Scottish champions Celtic.
So how did Allan end up joining Ronny Deila's men?
STV takes a look at the timeline of the close season's most talked about transfer.
May 4: Hibernian playmaker Scott Allan named Championship Player of the Year
With the Easter road club looking forward to the play-offs, Allan was named the Championship's best player - fending off competition from Hearts' Jamie Walker, Margaro Gomis and Alim Ozturk - marking an impressive campaign for the 23-year-old playmaker.
May 23: Allan vows to stay at Hibernian despite play-off loss
The final whistle had barely gone on the end of Hibernian's 2014/15 campaign with the Easter Road side losing 2-1 on aggregate to Rangers in the play-offs. In his post match interview, Allan reiterated his desire to help the capital club gain promotion to the Scottish Premiership.
May 28: Celtic and Rangers set to start tug-of-war for Allan
Celtic and Rangers set for transfer tug-of-war over Hibernian midfielder Scott Allan
The Scottish Daily Mail reported both Glasgow clubs were interested in securing the player's signature.
June 22: Hoops line up Allan swoop
Here's a first look at tomorrow's back page... pic.twitter.com/ohwIJLP7BV

— Scottish Sun Sport (@scotsunsport) June 21, 2015
Hoops line up Allan swoop
As players returned after their summer break, The Scottish Sun reported that the former Dundee United man was on Celtic's radar.
June 22: Celtic play down link to Allan
Celtic play down link to Hibs midfielder Scott Allan
However The Evening Times claimed sources within the club had told them that Allan was not a player they were interested in.
June 25: Scott Allan 'perfect' for Rangers, says Paul Murray
Rangers' vice-chairman gives his view on Scott Allan
Paul Murray told The Times that Allan was exactly the type of player that the club should be trying to sign.
June 25: Scott Allan plans to see out final year of Hibs deal amid transfer links
Speaking to STV at Hibernian's East Mains training base, Allan played down reports linking him with a move away.
He told STV: "For me until anything is concrete I'm a Hibs player for next season and I'm looking forward to working under the gaffer again. It [speculation] is just part of football and it means you are doing something right but as I said I'm just looking forward to getting started here again."
Asked what his message would be to Hibernian fans, Allan replied: "Nothing has changed for me. I've got a year left on my contract and I will be seeing that out."
July 21: Rangers step up Allan chase
Here's a first look at Tuesday's back page. Read the full story in SunSport and at http://t.co/mkgPV8XLCc #scotpapers pic.twitter.com/PSAxZF5rQp

— Scottish Sun Sport (@scotsunsport) July 20, 2015
Rangers step up Scott Allan interest
After a slow start to the summer transfer window, the Ibrox side seemed ready to make their move for the boyhood Rangers fan. (The Scottish Sun)
July 23: Rangers see £175,000 offer for Hibernian's Scott Allan rejected
Hibernian boot out opening offer of £175,000 from Rangers for Scott Allan
The Easter Road club turned down the bid from their Championship rivals, days before the two sides meet in the Challenge Cup. In a statement on the club's website, Hibernian chief executive Leeann Dempster said: "It was an easy bid to reject.
"Scott Allan is one of Scotland's best midfield talents and last season's Championship player of the year, and any approaches for him are unwelcome."
July 23: Alan Stubbs urges Allan to stay at Hibs as second Rangers bid is rejected
Rangers make second bid for Hibernian midfielder Scott Allan
Rangers upped their offer to a a total of around £250,000 but this was once again knocked back by Hibernian.
Stubbs urges Allan to stick with Hibs and earn English Premier League move
Hibs head coach Alan Stubbs spoke to STV and urged the player to remain in Edinburgh for the remainder of his contract and earn a move to the English Premier League.
July 23: Scott Allan tells Hibernian he wants to leave to join Rangers
Allan held a meeting with Hibernian club officials on the afternoon of July 23 and verbally expressed his desire to depart Easter Road.
July 24: Allan's plea to Hibernian: Let me go
Here's a look at the back page http://t.co/rzGhx6Grs2 #scotpapers pic.twitter.com/CW7fTc1SJV

— The Scottish Sun (@ScottishSun) July 23, 2015
The Scottish Sun also reported Allan's request to depart along the M8 to join Rangers.
July 24: Mark Warburton defends Rangers' pursuit of Hibernian's Scott Allan
Mark Warburton says Rangers have done nothing wrong in their pursuit of Scott Allan
New Rangers boss said the move for the player was simply business before adding "right now he's a Hibs player and it would be disrespectful for me to say anything about Scott Allan."
July 25: Allan comes off the bench in 6-2 loss to Rangers
Hibernian were heavily beaten in the Challenge Cup as Mark Warburton's men hit them for six at Easter Road. Allan started the match on the bench before being introduced into the action after 53 minutes. The midfielder's name was chanted by both sets of supporters.
Hibs boss admits 'circus' made him bench Scott Allan against Rangers
Alan Stubbs was bullish in his post match media conference, stating the player was not for sale.
He added: "I don't think it would have been right for me to have put Scott in the game today with what has been going on, the circus of the last few days.
"He is a professional footballer, he is a human being, it would have affected him.
"The most important thing was the team and the club. I said to Scott that I was doing it for him and the club."
July 27: Rangers manager non-committal on third bid for Hibernian's Scott Allan
Rangers manager Mark Warburton refused to say whether the club would be making a third bid for Allan.
"I have no idea [about a third bid]," he said. "All I'm worried about is my playing squad and my group of staff."
July 30: Hibs coach says transfer request won't alter my relationship with Scott Allan
My relationship with Allan hasn't been tarnished by transfer request says Stubbs
In a passionate interview with STV's Paul Barnes Stubbs opened up about his relationship with the player and insisted his transfer request wouldn't change the dynamic between them.
While refusing to back down over not selling to Rangers, Stubbs told STV: "We're still professionals, we're still very good human beings and when you've got that you put things to one side, no matter what's going on.
"It won't change my opinion of Scott or the way I am towards him, not one bit."
August 2: Stubbs branded a hypocrite by Bolton fans over Allan stance
Bolton fans brand Alan Stubbs a hypocrite over handling of Scott Allan transfer saga
The club's Supporters Association insists Stubbs engineered his own exit from Bolton and should let Allan leave. (Daily Record)
August 4: Hibernian reject third Rangers offer for star midfielder Scott Allan
It's not third time lucky for Rangers
Hibernian showed no sign of changing their attitude towards allowing the ex-West Brom man head to Govan with a third bid knocked into touch.
August 6: Walter Smith: Hibs 'quite right' not to sell Scott Allan to Rangers
Former Rangers boss Walter Smith has his say on the summer transfer saga
Ex-Ranger boss Smith says he could understand why the Leith men didn't want to strengthen a title rival, adding: "Scott Allan showed last season at Hibs that he's a very creative player and that's something that Rangers have lacked over the last three seasons, someone who can carry the ball and create an opportunity for others.
"That's obviously why Mark [Warburton] wants him but it looks as though Hibs, and from their perspective quite rightly so, are not willing to sell someone who could cause them problems."
August 6: Rotherham drop interest in Allan
Steve Evans confirms their bid to lure Allan south is over
Never a man to mince his words, Evans told reporters: "I spoke to his representatives earlier today and they made it clear that Scott wanted to stay in Scotland and I don't care if you're Scott Allan or Messi, if you don't want to come to Rotherham United, we don't want you to come."
August 10: Stubbs claims some Hibs players hid behind Allan saga
Hibs head coach hits out at players after defeat to Dumbarton
Allan started and played the full 90 minutes as the Easter Road men went down 2-1 in their opening league match of the season.
Speaking in the Edinburgh Evening News, Stubbs said: "I am not going to allow or let the players use the events of the last few weeks as an excuse because it's certainly not.
"I think some players have hid behind that and I won't allow it. What goes on in the media has no bearing whatsoever with the players. They have to get on with it and put it aside. This result was not acceptable."
August 13: Celtic boss Deila won't discuss move for Hibernian's Scott Allan
Reports emerged that the Scottish champions were ready to close a deal for the 23-year-old. Manager Ronny Deila was asked about a bid at his media conference ahead of the clash with Inverness CT but stayed tight lipped.
"I can't comment on anything until something is done," he said. "It's too early to say something about. I have commented on names before and that wasn't very good. He is not our player, so please try to ask about our players."
In response to questions from STV over whether Celtic had made a bid, Alan Stubbs said: "No, we are looking to put a squad of players on the pitch and be as competitive as possible.
"Obviously there's been a lot of speculation with Scott over the last few weeks and as you seen from last Saturday he's not letting it affect him on the pitch.
"We would have a discussion as a football club and that's the same with any player.
"We have chose not to do business with Rangers, that's been clear from the outset and we've been open and honest about that.
"From that point of view nothing has changed, but I can't comment on every time there's speculation out there because I don't think it's the right thing to do.
"At the moment it's just speculation. The way social media is now things can grow arms and legs, we see lots of speculation that goes on in the football world, it's not necessarily always true."
August 14: Scott Allan signs for Celtic
The saga came to an end with the player signing a four-year deal with the Scottish champions after passing a medical.