Neil Doncaster: Report shows Scottish clubs amongst best run in Europe
The SPFL chief executive reacts to a study on how our nation compares to other UEFA nations.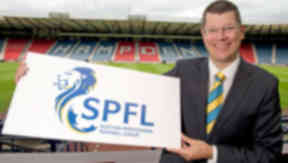 SPFL chief executive Neil Doncaster says UEFA's benchmarking report proves the nation is often too hard on itself, and that Scottish clubs are "amongst some of the very best run clubs in Europe".
The study, analysed by STV, tackles issues such as the SPFL's standing with regards to ticket prices, broadcast deals, the financial performance of clubs and the slide in Scotland's coefficient in European competition.
"When I am speaking with other leagues around the world, the SPFL and its clubs are hugely respected," Doncaster told STV. "I do think that we are often tougher on ourselves than is fair and that SPFL clubs are amongst some of the very best run clubs in Europe."
The study finds that Scottish fans pay, on average, the fifth highest per head to watch Premiership games of all top-tier leagues in Europe.
Doncaster however explains that this is for good reason, and that clubs are continually striving to ensure supporters are not priced out of the game.
"Scottish clubs invest a great deal of money in ensuring that the in-stadium experience is safe, enjoyable and suitable for a family audience," he said. This inevitably increases costs, when compared to some other European nations.
"Our clubs are also continually using a number of different methods and introducing offers to help lower the costs of attending games and strike the best possible balance.
"The most recent research shows ticket prices either being frozen or falling and attendances on the increase so things are currently moving in the right direction.
"Scottish football's attendances are holding up well. Numbers are up this season and are a reflection of the unrivaled passion for the game in this country. This gives us confidence for the future of the game in Scotland, as this passion ultimately drives most of the constituent parts of the revenue mix.
Scotland's TV deal is also put under the spotlight, with figures showing it is the 12th best in Europe in terms of how much each Premiership club receives from it on average each year.
"Any comparison of broadcast deals to those in England, Germany, Spain, Italy or France is an unfair and unhelpful one - those countries have huge populations and the world's very best players," Doncaster added.
"But when compared to other leagues around Europe, Scotland performs well. The passion, drama and excitement for which Scottish football has long been renowned around the world should continue to support interest in, and the value of, our broadcast rights."
Average revenues at Scottish Premiership clubs are also found to be down 25% over the five year period from 2009 to 2014.
Teams however have proved nimble to react to the changing conditions, with the average net profitability of top-flight sides surprisingly amongst the highest percentage in Europe at 7.9%.
"The clubs are to be congratulated on this excellent result," Doncaster said of the findings, which also showed five Premiership clubs reported a net profit in 2014 and those who posted losses were, in the main, of a zero to 10% margin.
"It has been achieved through clubs' hard work to increase revenues; producing and developing talented young players who are sought after and often end up being sold to richer leagues; reduction in debt, which then reduces the cost of servicing that debt; and good control of costs, particularly player wages.
"It is also a reflection on the league's success in growing sponsorship and broadcast revenues, which in turn means higher fees being paid to clubs."