What would be the benefit of Celtic buying a North American franchise?
The Scottish champions are reportedly interested in establishing a sister club in the NASL.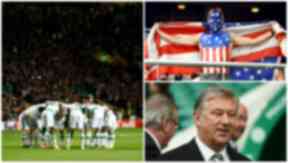 Celtic, as a global brand, transcends Scotland's boundaries.
The Parkhead club are valued as world football's 34th most valuable brand - worth £79 million - and looking to grow with a mooted move into the North American market. But what would be the benefit of such a venture?
Recent reports claim that the Hoops are exploring the possibility of establishing a sister team in the North American Soccer League (NASL), with the de facto second tier looking to expand rapidly and dramatically over the next two years.
Indeed, the NASL - currently an 11-team division - plans on reaching the 20 franchise mark within 18 to 24 months (as of August), according to commissioner Bill Peterson. It is therefore not out of the question that Celtic could swipe one of those expansion spots soon to be up for grabs.
Of course, there is precedent for British top-flight sides seeking sister clubs in the USA. The cost of establishing a NASL franchise would pale in comparison to the £330 million spent by the Manchester City's Abu Dhabi owners to set up a sister club, New York City FC, but what would Celtic really get for their outlay? Other than a wider global presence - the kind which can be hard to quantify - apparently not a great deal.
No NASL team boasts an average attendance of over 10,000 this season, illustrating the pedigree of the clubs Celtic would be joining. Only earlier this year was a nationwide television deal struck, with only backwater broadcasters carrying games in the most part.
While MLS continues to grow in the global sense, the second tier is still struggling for Stateside recognition. In a lot of cases, the NASL is used as a breeding ground for MLS - with owners keen to prove that their markets are sufficiently fruitful to support a top-tier franchise. Therefore, Celtic could perhaps bring a bigger market to the NASL than the division itself would bring to them.
If Celtic remain intent on establishing an NASL franchise though, where would they set up shop? Geographically, it would seem logical to assume that the Glasgow club would favour a team on the east coast of the United States - just a trans-Atlantic flight away from Parkhead.
However, that most likely won't be possible. If Celtic were to set up a sister club in the NASL though, it most likely be on the West coast of the US, or centrally or maybe even in Canada - pretty much anywhere but the East coast, where the division is already well-stocked.
Of 11 teams contesting the NASL season this year, seven play in the east (Atlanta Silverbacks, Carolina RailHawks, Fort Lauderdale Strikers, Jacksonville Armada, New York Cosmos, Ottawa Fury and Tampa Bay Rowdies). As Peterson confirmed as recently as August, "we expect to make some announcements this year regarding new teams in the league based on the west coast. We're going to fill it in the centre of the country and in Canada as well."
Even if Celtic could somehow persuade the NASL and commissioner Peterson to ditch their current stance on east coast expansion, the lack of suitable destinations available would be an issue. Boston, with its strong Irish heritage, might appear an obvious landing spot - given that the city is currently without an NASL club - but Celtic are restricted from entering the marketplace by a licensing agreement in place with the Boston Celtics of the NBA.
On the basis of officially affiliated supporters' clubs' locations, Celtic have fan hotspots in New York and in the Northeast of the United States - including Boston - where the NASL is already at saturation point.
But Celtic could potentially find a home for their NASL franchise is in Northern California - specifically San Francisco. Talk of a possible expansion team affiliated with one of the city's American sports teams has dimmed of late, and so the Scottish champions could consequently exploit the league's desire to expand to the West coast.
Could they find a strong fanbase there? San Francisco has two affiliated Celtic supporters' clubs and the Celtic Underground podcast is listened to by more people in the San Francisco/Oakland/San Jose metropolitan area than any other, barring San Antonio.
Celtic have also been making quiet moves to establish a presence in North America by entering a number of partnerships with provincial clubs under the banner of the Celtic Soccer Academy.
Those tentacles have spread far and wide, with 14 already established from New York, Florida and North Carolina, across to St Louis and Missouri and, perhaps more tellingly, San Diego and San Francisco in the west. They've even got links with youth soccer in Vancouver.
If the commercial aspect of the proposed venture is in question, could there be a sporting value for the Scottish Premiership champions? Could Ronny Deila use a NASL franchise as a feeder team or maybe even an outpost for young prospects to gain first-team experience on loan?
It can be difficult to compare the quality of Scottish and North American football, given the vast range in standard manipulated by MLS's salary cap and centralised system, but in the NASL no such restrictions are in place. Clubs are free to spend what they want on who they want. It is a distinctly European division in an American marketplace.
However, the standard of play in the NASL is generally low. That's not to say there aren't good players and good teams - Raul plays for the New York Cosmos, after all - but if Celtic are looking for a feeder team playing at a comparable level to farm out fringe players and young talent, a side in the North American second tier probably isn't it.
When City Football Group bought the rights for an MLS franchise two years ago they spoke about a sporting correlation between the two clubs - as if the Stateside team would provide a springboard for American talent in their efforts to reach the Premier League.
But with the book now closed on New York City FC's first MLS season such an insistence looks nothing more than just PR talk. Partnership between the MLS and Premier League clubs has largely remained in name only, with only two players making the move from the Northwest of England to the Big Apple on loan. NYC FC's sole merit to their parent club has been commercial.
It has been suggested that any prospective NASL move by Celtic might only be viewed as a stepping stone, with the club's sights ultimately set on MLS. But any hope that the implementation of a promotion-relegation mechanism between MLS and the NASL could grant the Hoops way into the top-flight is misplaced.
While there is a consensus that one day there will be mobility between the North American top flight and second tier, that eventuality is still some way off. "It is not happening in MLS any time soon," league commissioner Don Garber said just last month.
Even in the event of a backtrack from Garber, MLS would surely create its own second tier - rather than pull in another division altogether - especially given the sometimes sharp-edged competition between the two leagues. NASL harbours ambitions of one day challenging MLS, and so accepting a classified position as a second-rate division would also be of little interest to them.
The concept of a North American outpost is of undeniable appeal to Celtic-minded people, but in reality the proposal is without an obvious benefit. The move shows Celtic's desire to grow their brand but this new frontier may not be where gold is struck.