Celtic goalkeeper pays tribute to Marton Fulop after death aged 32
Craig Gordon played with the Hungarian shot stopper at English side Sunderland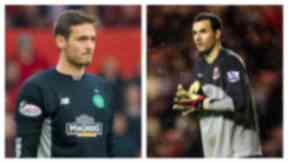 Celtic goalkeeper Craig Gordon has paid tribute to his former team-mate Marton Fulop, who died aged 32 following a fight with cancer.
The two keepers played for Sunderland between the years of 2007 and 2010, with the Hungarian also turning out for Tottenham Hotspur, Ipswich Town and West Brom among other clubs.

Gordon highlighted how he became friends with Fulop during his time at the Stadium of Light, despite the two men competing for the same place in the Sunderland team.

"Marton was a very humble guy, a genuinely nice man, who I was lucky enough to play alongside," Gordon told Sunderland's official website.

"Even though we were both competing for the number one shirt, he always supported me
when I was playing and we were good friends.

"I had kept in touch with him and followed his career and am deeply, deeply saddened to hear the news today. My thoughts are with his family."

Fulop made 44 appearances for Sunderland, also playing for Leicester City and Manchester City on loan before stints with Ipswich, West Brom and Asteras Tripoli in Greece.

It was there that Fulop had a tumour removed from his arm, before being cleared to resume his playing career in 2013. However, his condition worsened and he passed away on Thursday morning.