Scott Brown: I won't quit Scotland duty ahead of 2018 World Cup bid
The Scotland captain has no intentions of retiring from international football.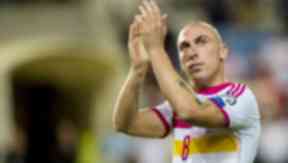 Scott Brown says he has no intentions of retiring from international football and will be fired up for Scotland's 2018 World Cup qualifying campaign.
The Scotland and Celtic captain is on the verge of his 50th cap and hopes to earn it in the build-up to the next batch of competitive fixtures.
Brown brushed off rumours he would be hanging up his international boots as he still has aims to achieve with Scotland.
"A lot of people have been saying I'll be retiring but I spoke to Gordon and we had a laugh about it," the midfielder said.
"The next game will be huge for me because it will be my 50th cap and it's a great honour to play 50 games for Scotland. The only one thing that's missing is to get to the Euros or a World Cup and that's what I want to try and do."
When asked if he would consider giving up international football to concentrate on domestic duty, Brown said; "If it's getting too much for my body, yes, but right now I feel as fit as I've ever been.
"I'm enjoying playing on international duty and for Celtic so as long as that keeps going and everything's still feeling as good as it should be then I'll continue playing as long as I can.
"I wouldn't like to say it will be my last qualifying campaign, I'll be 32/33 by the end of it so hopefully I'll be fit for a few more."
I want to finish my career at Celtic with the treble says Scott Brown
Celtic's captain, and longest serving player, Scott Brown hopes to end his career at the club, but aims to do so having lifted the domestic treble.
The 30-year-old midfielder admits it was hard to come so close to the prize last season and is determined to seal all three trophies before his career comes to an end.
Speaking at the launch of his book Scott Brown: My Celtic Story, he said he would like to remain at Parkhead for as long as possible.
"I've enjoyed every single moment of it and it would be hard going from this club to anywhere else now," he said.
"Playing with the talented players I've played with during my nine seasons to maybe going to a lower level with the way football is going and the age you get on as well.
"We were close to getting our hands on [the treble] last season and I want to be closer this season."
Brown has been training for his coaching badges and enjoyed helping with the Celtic youth squad this season, but when asked if he would like to step into the manager's shoes one day he admitted it isn't something he has considered.
"Not the now, no," he said. "I'm enjoying playing and helping out with the Under-20s, being the manager of this club is stressful.
"You never know what will happen in the future. I want my playing career to go on as long as possible so for as long as I still feel I can give something on the park I'll still play."