Ronny Deila: Scottish football should consider introducing 'B' teams
The Celtic manager says development teams in the lower divisions would help produce better players.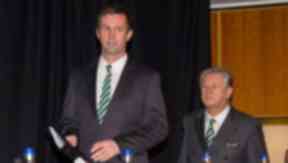 Celtic manager Ronny Deila has suggested the introduction of 'B' teams into the lower division as a move to help develop young players.
The Norwegian's backing for the idea comes against a backdrop of discussion about how to improve the fortunes of the Scottish national side and club sides in Europe, while there has also been a wide range of opinion on how to improve the domestic game as a whole.
"To have a second team in the lower leagues would be very good," the Celtic boss said. "They do it in Spain and they have done it for many years in Norway.
The Norwegian coach also expressed his views on the scheduling of youth team fixtures, adding that his players need routine to prepare them for the top level of the game.
"You play games that are important and it's also important that when you play first-team on Saturday then the Under 20s should play on Sunday.
"If you play on a Wednesday then you ruin the whole week of training for the whole team."
"It's so they can get into the same routine of play and training [as the first-team].
"That's a big change, but look around in Europe and see what they are doing.
"The talent is now going to the biggest clubs and they have big squads, so it's important that numbers 20 to 30 get a good challenge.
"I think if we have our best second team then we can challenge for maybe the Championship.
"It's a suggestion. I have seen it done before and how good it can be. It's about getting experience for the young players."
" I don't have all the answers, but the issues I bring up are things we should think about."