Packie Bonner: I stand by my criticism of Ronny Deila in Europe
The manager wasn't happy with the former goalkeeper's opinion after recent results in Europe.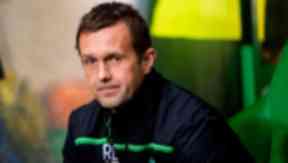 Packie Bonner has stood by his criticism of Celtic boss Ronny Deila saying it's not personal but it will continue if the club don't build on their poor European form.
The former Celtic goalkeeper voiced his opinions after recent Europa League results which have left the side bottom of Group A with just two points.
Deila reacted to comments made by Bonner and others in the media, saying in October: "Celtic has been unbelievably successful for many years now and everybody around Celtic wants to hurt us and find negative things, and that is something this club has to cope with. Whatever other people are talking about, I couldn't care less."
Bonner, who was at Hampden to present the museum with a tribute to former Celtic keeper John Thomson, maintains his original judgement on recent performances.
"I was a big supporter of Ronny when he came in, to see what was going to happen and give him time," Bonner said.
"There were other people out there from day one who were on Ronny's back but I've looked at it, I've looked at what happened on the pitch and you can only comment on what you can see.
"It's not a personal criticism, I said that very closely, any manager that is managing Celtic will be judged on European competition at this moment in time.
"If he gets out of it then fantastic, but if he doesn't there will be more criticism heaped on him and the board . That's the way, if you're managing Celtic, that'll always be the case no matter who it is.
"He's right to come out and say whatever he wants, that's his opportunity if that's what he wants to say. I've got no problem whatsoever, but you can only look at what's on the pitch and that's what we talk about."